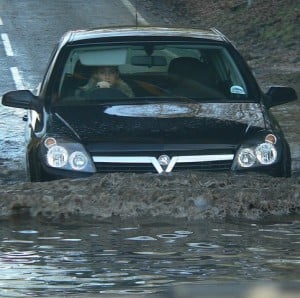 WARNING: Would you endanger yourself?
More than half of UK drivers would endanger themselves and their vehicles by driving through moving flood water, a new study has revealed.
The survey by the Environment Agency and the AA has found 54% of motorists questioned would take the risk, meaning 18million drivers could meet a watery end this winter.
Research of 21,165 AA members also revealed 27% of respondents would drive through flood water deeper than 30cm, which is enough to move a car.
Phil Rothwell, Head of Flood Strategy and Engagement at the Environment Agency, said: "Tragically people die because they've taken risks and attempted to drive through flood water just to save a few minutes.
"Flood water is dangerous, dirty and it can carry disease.
"If there is widespread flooding in your area then don't travel and if a road is closed then turn around and make a detour.
"Your journey could take you a little longer but making the right decision could ultimately save your life.
"You can check the flood forecast on the Environment Agency website to help you plan."
A third of flood-related deaths involve a vehicle because drivers take unnecessary risks, with several motorists killed last year in the UK's second-wettest annum on record.
In the same period, the AA rescued almost 9,000 vehicles that had driven through or were stuck in flood water, with an estimated insurance bill of more than £34million.
The survey also found 42% of drivers would blindly follow vehicles crossing a flooded road successfully and the equivalent of 680,000 drivers would ignore a 'road closed' warning sign.
Darron Burness, Head of the AA's Flood Rescue Team, said: "The 9,000 vehicles driven into flood water that the AA attended last year tell only half the story.
"There are thousands of other drivers who, perhaps unwittingly, came so close to coming a cropper.
"Three-quarters of cars that get stuck are written-off as it only takes a tiny amount of ingested water to wreck the engine.
"You're also putting yourself at risk as flood water can mask all manner of hazards, for example open manholes, and just one foot or 30cm of moving water can float your car.
"Moving flood water, particularly, is powerful, relentless and deceptively dangerous, so just stay out."
Image courtesy of florriebassingbourne, with thanks.