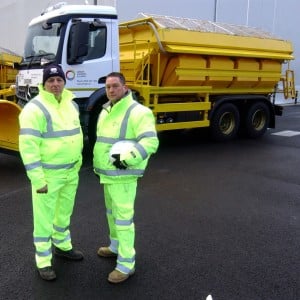 DELIVERY: First Euro 6 gritters for EM
EM Highway Services are taking delivery of the first Euro 6 compliant gritters in the UK.
Across their London contracts, EM will be using new Mercedes-Benz Euro 6 Arocs, which utilise several technologies that allow the lowest-possible running costs.
The new vehicles, supplied through SHB Hire Ltd, will be 5% more fuel efficient and achieve AdBlue savings of between 20 to 40%.
Mitesh Solanki, Local Authority Service Director for EM, said: "EM has constantly challenged the market and highway industry to be more sustainable in its approach to service delivery, particularly in London where we have constantly challenged ourselves to reduce the impact to air quality in collaboration with our fleet provision partner.
"The introduction of greener gritters further supports our aspirations and we hope the industry will follow our lead in order to support clients to deliver the challenging carbon reduction targets that is so rightly expected."
Mike Street, Managing Director of SHB Hire, added: "We're really pleased that the collaboration between SHB, EM Highway Services, Mercedes and Econ resulted in the first Euro 6 gritters coming into operation in the UK leading the way to meeting ever reducing carbon targets."