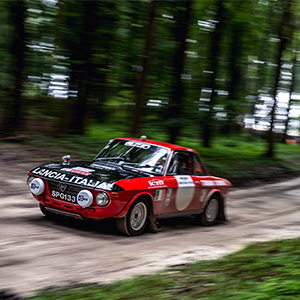 The Forest Rally Stage at the top of the Goodwood Hillclimb offers spectators the rare chance to see both historic and contemporary rally cars carving their way through the challenging unpaved tree-lined stage.
Highlights this year will include a celebration of "20 years of the World Rally Car regulations", including more R5 cars than ever before, alongside R5 Ford Fiestas, Hyundai i20 and the debut of the Proton IRIZ R5 car – Proton's return to the WRC.
Epitomising this year's Festival theme – "Peaks of Performance – Motorsport's Game-Changers" will be a stunning collection of Group B machinery including the Audi Quattros, Lancia 037, MG Metro 6R4s and even the awesome MG Metro 8R4 – a 6R4 with a 4.6L V8 engine. These are the monster racing machines that were so fast, powerful, expensive and outstandingly capable that the rallying rules had to be changed to bring them back under control.They bring together the true high watermarks of motorsport which is truly exciting for this year's Festival.
Some of the future stars of rallying will be taking on the Goodwood gravel in their R2-specification cars, Tom Williams in a Ford Fiesta, Catie Munnings in a Peugeot 208 and Chris Ingram in an Opel Adam.
After 47 years, Bron Burrell will get back behind the wheel of the Austin Maxi she drove in the 1970 London to Mexico World Cup Rally. The car is nicknamed 'Puff the Magic Wagon' and has been getting some good coverage in the media.