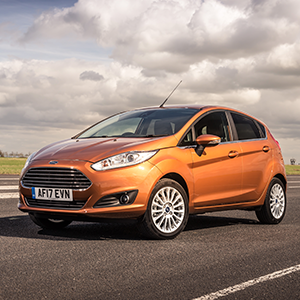 Ford total vehicle sales were at their highest March level last month with total sales exceeding 92,000, as the UK market leader out-performed the industry. Ford extended its lead over its nearest rival in total vehicle sales by 80 per cent compared to March 2016.
Highlights of the March sales figures issued today by the Society of Motor Manufacturers and Traders (SMMT) include:
March 2017 highlights:
Ford total vehicle sales 92,467, up from 80,975 in March 2016
Ford total vehicle sales share 14.8 per cent, 6.6 percentage points ahead of nearest rival
Fiesta and Focus led the UK car sales; including retail sales
Transit Custom led CV sales, with sales more than double those of nearest rival
Transit Custom is the UK's eight best-selling vehicle, with Kuga 10th
First quarter 2017 highlights:
Ford total vehicle sales 137,216, up from 125,505 for the same period in 2016
Ford extends its retail car sales lead – 5.1 percentage points ahead if nearest rival
Ford CV sales extended further, up 3.3 per cent compared to the same period in 2016
Andy Barratt, Ford of Britain chairman and managing director, said: "Sales gain a massive boost in March thanks to the number plate change and, coupled with the introduction of changes to the Vehicle Excise Duty, this March has seen Ford's best-ever car and CV ranges record the highest ever level of registrations. Ford's long-standing market leadership is being consolidated by the strength of our more profitable retail sales and is testament to our continued investment in exciting products and industry-leading technology that customers are choosing."
According to the official SMMT figures, March car sales in the UK were up 8.4 per cent at 562,337 registrations, compared with March 2016. Ford sold 71,837 cars in March, up 19 per cent, compared with March 2016. Ford's car sales lead over its nearest rival was 25,273.
Ford remains the clear leader in retail car sales, which most accurately reflect the preferences of private buyers. At 12.1 per cent, Ford's March retail car sales share increased from 11.4 per cent for the same period last year and is 5.3 percentage points ahead of its nearest rival.
The Ford Fiesta has been the UK best-seller for eight years and it is maintaining that position by a significant margin with 25,428 sales and a 4.6 per cent market share in March, 9,383 sales and 1.7 percentage points of market share ahead of its nearest competitor. Fiesta also leads UK retail sales with 12,930 registrations, 2.2 percentage share points ahead of its nearest rival.
The strength and breadth of the Ford model range is demonstrated by Fiesta (1st), B-MAX (3rd), Focus (1st), C-MAX (1st), EcoSport (5th), Kuga (2nd), and Mustang (6th) all featuring near, or at, the top of their segments in March. Kuga in particular outperformed in it segment, recording an increase of over 47 percent compared to March 2016.
UK light commercial vehicle sales in March were down 0.9 per cent at 63,316, compared with March 2016. Sales of Ford CVs, which include the Ford Ranger were down 0.4 per cent at 20,294, compared with March 2016. Year to date Ford's CV market share is 32.1 per cent, up from 31.8 per cent for the same period 2016.
Ford medium commercial vehicles, headed by the industry-leading Ford Transit and Ford Transit Custom were 14,842, and for the year-to-date sales were up from 21,729 to 23,829, up 9.7 per cent. Ford's light commercial vehicles sales year-to-date also rose from 9,643 to 9,987, a 3.5 per cent increase.
Ford leads the commercial vehicle retail and net fleet sales, with both increasing year-to-date, retail sales rose 8.4 per cent and fleet sales grew 6.1 per cent compared to 2016.
Fiesta Van, Transit Courier, Transit Connect, Transit Custom and Transit are all first in their respective market segments