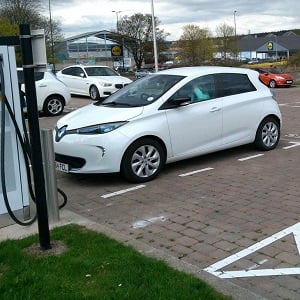 eVolt UK, the nationwide supplier of electrical vehicle (EV) charging units, has installed the latest versions of its rapid charging units for a new hub to help Dundee City Council promote electric taxi use.
eVolt has installed four Raption 50kW Rapid Chargers and three 22kW eVolve chargers at the new hub at Aimer Square. The Rapid Chargers are capable of charging two vehicles simultaneously at full power in approximately 30 minutes.
This is the first of three rapid charging hubs to be introduced in Dundee in 2018 through the Office for Low Emission Vehicles (OLEV) Go Ultra Low programme. Dundee City Council selected the locations based on commuter routes and also following a questionnaire sent to the city's taxi drivers considering their opinions on where the hubs should be sited.
Fraser Crichton, Transport Officer at Dundee City Council, has been encouraged by the early usage of the units: "The Rapid Chargers have been in use at Aimer Square since the beginning of April and have already been used over 700 times in the 10 days since opening, including over 100 different users. There are currently 94 pure electric taxis in use in Dundee and we hope to see more drivers make the transition.
"We have worked together with eVolt for a number of years now and have found the products to be high-quality and extremely reliable. They have always provided us with excellent customer service and support."
A further two Rapid Chargers will be installed at Aimer Square later this year. The other two hubs will also be completed this year, with four Rapid Chargers and two eVolve chargers being installed at Queen Street car park, and six Rapid Chargers and three eVolve chargers being installed on Prince's Street in the city centre.
Justin Meyer, General Manager of eVolt UK, says the company is pleased to be involved in the project in Dundee: "With over 100 charge points, including the busiest Rapid Chargers in Scotland, Dundee is leading the way for EV. We are proud to be supporting the council's project to lower emissions and increase the number of EV taxis by providing highly reliable and efficient charging units for these hubs."
Poppy Welch, Head of the joint industry and Government Go Ultra Low Campaign, said: "The installation of Dundee's new rapid charger hub is part of the Council's ongoing work towards enabling more residents, commuters and taxi drivers to choose electric. Dundee is one of the leading cities in the UK in the transition to electric vehicles, particularly in its taxi fleet. In addition to improving local air quality in the city, drivers who switch to electric are also able to save thousands of pounds each year on fuel, tax and other running costs."