Engenie, the UK's fastest growing rapid electric vehicle (EV) charging operator[1], has installed its first two rapid EV charge points in Cardiff city centre as part of a wider rollout that will more than double the number of rapid chargers in the city.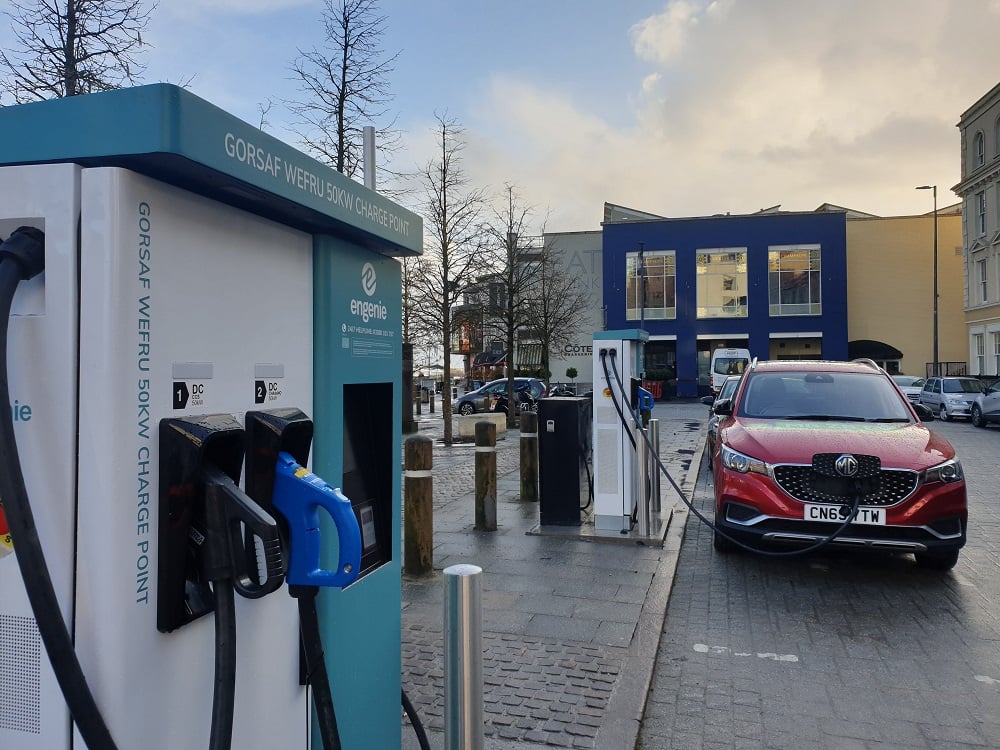 Each site is powered by 100% renewable energy and will host two rapid charging points. The first sites to be installed are located on Bute Crescent and Howard Place, with a further two sites to follow shortly after at Windsor Place and King Edward VII Avenue in Spring this year. The final two sites will follow at strategic locations across the busy city centre. Once complete by mid-2020, there will be 12 chargers across 6 sites.
Each rapid charging point is simple to use, requires no membership or connection fee and operates with standard contactless payment cards. The chargers are compatible with every EV on the market today and provide 80 miles of charge in just 30-60 minutes[2]. Once complete, local EV drivers will benefit from one week of free charging at the new sites.
Patrick Sherriff, Property Director, Engenie, says: "We're making EV charging a simple and easy process for visitors, businesses and residents of Cardiff by installing the most user-friendly rapid charging points available today. Our partnership with Cardiff council is supporting drivers making the switch to EVs as well as the council's plan to improve air quality in the city."
Recent work by Public Health Wales estimates that the equivalent of over 225 deaths each year – or 5% of all deaths – can be attributed to particulate matter and nitrogen dioxide (NO2) in the Cardiff and Vale Health Board area, with thousands more suffering from long-term illnesses[3].
Over 90,000 commuters travel in and out of Cardiff each day and spend an average of four working days a year stuck in traffic during peak periods. The development of the Engenie EV network in Cardiff could have a significant impact on air pollution and remove up to two tonnes of harmful NO2 from the city centre[i].
 Developing electric car infrastructure is a key focus of Cardiff Council's recent Green Paper on transport and clean air, which was published in October. 'Changing how we move around a growing city' proposes a range of changes to improve the city and start a conversation with the people of Cardiff to shape the future direction of the city.
The Clean Air Strategy will adopt "smart city" approaches, beginning with new technology – such as Engenie's chargers – and predictive software to support intelligent infrastructure management networks across the city to tackle air pollution.
Sherriff continues: "Cardiff's 'smart city' approach to tackling air pollution is demonstrating that there are different avenues to achieving a clean air city. Embracing technology can be equally effective as low emission zones, while also encouraging more drivers to make the switch to electric.
"Engenie is covering all costs associated with installing and servicing the rapid charging points. It will also share profits with the council, allowing the city to hit climate targets, generate revenue and support its sustainable growth plan."
Michael Michael, Cabinet Member for Clean Streets, Recycling and Environment, Cardiff Council, says: "By partnering with a progressive company like Engenie, which installs, manages and maintains the rapid chargers, we're able to deliver essential EV infrastructure at no cost to the council. This influx of private investment into the city means we can continue to drive investment back into vital public services."
By modelling major road links in the city centre, the Council has also been able to predict when and where legal air quality limits will be breached if business as usual is continued. The partnership with Engenie will contribute to keeping these areas within recommended limits.
This announcement follows Engenie's recent unveiling of London's first rapid EV charging hub in partnership with Transport for London (TfL) and represents a major milestone in the company's plan to double the number of rapid chargers in the UK by 2024, following significant investment from Cube in July 2019.
In July 2019, Cardiff Council outlined its £1 billion transport vision, introducing measures to improve transport in the city including decarbonising the bus fleet, developing active travel zones and increasing cycle networks.
---
[1] Engenie installed the most of any UK charging provider in Q4, 2019.
[2] Depending on the battery
[3] Cardiff's Transport & Clean Air Green Paper: Changing how we move around a growing city
[i] NO2 calculation and sources:
An average Engenie city centre charger will deliver 60kWh per day.
A standard 2012 Nissan Leaf (most common pure electric vehicle in the UK) drives 100 miles on 34kWh (Source: Green Car Reports), so would drive 176.47 miles or 284km on the 60kWh delivered per day by an Engenie charger.
Which? tested the NO2 emissions of Euro 6 compliant diesel cars across all major manufacturers and the average was 0.25g/km (Euro 6 limit is 0.08g/km). Four out of five diesel cars produce more NO2 than the Euro 6 limit.
Which? also tested petrol cars and found an average NO2 emission of 0.027g/km
At the end of 2017 the split of petrol/diesel licensed cars was 60-40. So, an EV that drives 100km it is avoiding/saving the 0.027g/km of NO2 produced by petrol for 60km and the 0.25g/km produced by diesel cars for 40km.
Based on this, the 284km of zero-emission driving delivered by an Engenie charging point each day is saving 284 x 0.6 = 170.4km of petrol driving and 283 x 0.4 = 113.6km of diesel driving.
At 0.027g/km and 0.25g/km petrol and diesel respectively, then, 170.4km x 0.027g/km = 4.6g and 113.6km x 0.25km = 28.4g, in total 33g of NO2 avoided per day by the driving delivered by one Engenie charger.
So, on one Engenie charger, 33g x 365 days = 12kg per charger per year.
The Cardiff partnership represents 12 chargers, so in total for the partnership pilot that's 144kg NO2 saved annually.
Over the 15yr lease term for the charger sites, this would be 2.2 tonnes saved in total thanks to the initial 12 chargers.