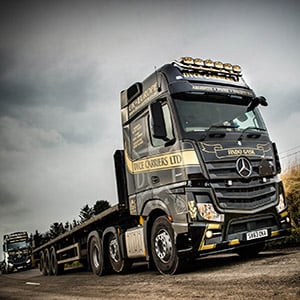 NABBED: Five units for Dyce
Aberdeen-based Dyce Carriers have acquired five Mercedes-Benz New Actros tractor units with range-topping GigaSpace cabs.
Supplied by Mercedes-Benz Commercial Vehicles Aberdeen, all are 2551 models powered by 510hp straight-six engines driving through the latest Mercedes PowerShift automated transmissions.
The company, who recently celebrated their 40th anniversary, operate their New Actros on general haulage duties nationwide.
Their fleet now stands at 72 trucks, as well as a handful of vans and pick-ups.
"The New Actros is a very striking piece of kit, with real presence on the road."
Jason Moir, Dyce
Jason Moir, Managing Director of Dyce Carriers, said: "We've had Actros tractors in the past and they've been good solid performers but the significant investments Mercedes-Benz Commercial Vehicles Aberdeen has been making to improve its facilities recently have convinced us that the high quality back-up we demand is also in place.
"The dealer has given us all the assurances we could ask for about the level of service we'll receive.
"Our decisions on vehicle acquisitions are also heavily influenced by factors like value for money and image.
"The Mercedes-Benz Agility finance is very flexible and the rates highly competitive.
"The New Actros, meanwhile, is a very striking piece of kit, with real presence on the road – ours have already attracted a lot of positive comments from customers and transport enthusiasts via our website, and the drivers' comments have been extremely positive too."