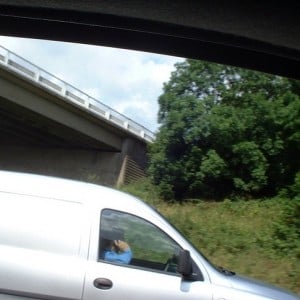 CRUSADE: Phone use clampdown
Brake are launching a national campaign against distracted driving after revealing 575,000 UK motorists have points on the licence for the offence.
The campaign – 'tune in to road safety' – urges fleet operators to ban even hands-free phone use for employees driving on company time.
It also insists employers should order staff to end calls with anyone who picks up while driving.
The campaign launches a decade after hand-held mobiles were banned at the wheel, and coincides with a week-long police enforcement campaign, supported by the Association of Chief Police Officers (ACPO).
Julie Townsend, Deputy Chief Executive at Brake, said: "We're living in an age when being constantly connected is the norm; more and more of us have smartphones and find it hard to switch off, even for a minute.
"While there are enormous business benefits to this technology, it's also posing dangerous temptations to drivers to divert their concentration away from the critical task at hand, often putting our most vulnerable road users in danger.
"Many people who wouldn't dream of drink-driving are succumbing to using their phone and other distractions while driving, oblivious that the effect can be similar and consequences just as horrific."
Suzette Davenport, National Police Lead for Roads Policing, added: "While a phone call may be important for a few minutes, killing or seriously injuring someone has life changing consequences.
"While most road users are careful, considerate and law-abiding; a minority are not.
"Too many collisions are caused each year by those who use excessive speed, drive without a seatbelt, drink or drug drive, or are distracted at the wheel."