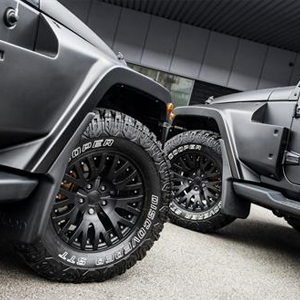 Kahn Design and Cooper Tire & Rubber Company Europe Ltd are proud to announce the designation of Cooper as the first Official Tyre of Kahn Design.
Cooper will be the tyre of choice for Kahn's Range Rover and Jeep model offerings. Kahn's creations can be personalised to exact individual specifications in order to guarantee a unique vehicle. Whether operating at the heart of an exciting outdoor adventure pitting its wits against the challenge of unforgiving terrain, or in the wilds of the urban environment where punchy performance and manoeuvrability are paramount, Kahn designs vehicles for a wide range of applications.
With tyre needs from tough and functional to urban chic, Cooper was an ideal choice. According to Kahn Group CEO, Afzal Kahn, "The reliability, safety and performance of Cooper tyres is extremely high, just the way we need it for our customers to have the best driving experience we can offer."
Kahn Design and Cooper share important core values – both are driven by success and both are unrelenting in their quest for the highest quality performance. This new relationship links the Cooper brand's passion for performance to Kahn's design and manufacturing expertise for the first time through various campaigns, marketing programmes and promotions.
Kahn will be outfitting vehicles with the Cooper Discoverer STT Pro POR, which features a rugged tread pattern for off-road use; the Discoverer S/TMAXX POR, which combines confident road handling with great off-road traction; and the Discoverer A/T3 Sport, designed in Europe specifically for all-terrain use.
Cooper tyres will be visible on a variety of coach built vehicles, such as the range of Flying Huntsman models, designed by the founder and Design Director of the Kahn Group, Afzal Kahn.
In addition, select Chelsea Truck Company vehicles (a subsidiary of Kahn Design) will also be fitted with the acclaimed Cooper Discoverer A/T3 Sport tyres. These will be available to view first hand at international motor shows such as the Geneva Motor Show, the Monaco International Motor Show and a variety of high profile UK-based shows.
Cooper will also feature Kahn vehicles at various promotional events, the first of these being Rallyday at Castle Combe on Saturday 23 September.
Kahn Group CEO, Afzal Kahn, believes there is a great deal of synergy between Cooper and Kahn Design. The British designer is confident this relationship will be very successful, saying, "We have a host of exciting plans to bring our new partnership with Cooper to life and offer fans of both companies the chance to get up close and personal with both brands.
"Cooper tyres are a known quantity. They work well in all the conditions that Chelsea Truck Company customers usually come across both on the open road and off-road.
"Cooper has such a rich history so the two companies linking up makes perfect sense."
Cooper Tire Europe Marketing Director, Michiel Kramer, said, "We are delighted to be associated with Kahn Design. This is a great platform for us to demonstrate our long-standing expertise in producing tyres which are designed to handle all surfaces both on-road and off-road.
"Cooper's range of tyres is dependable for exceptional grip, handling and braking. Choosing the correct tyre is vital, and I am delighted that the Kahn Group has hand-picked Cooper as their ideal choice of tyre."