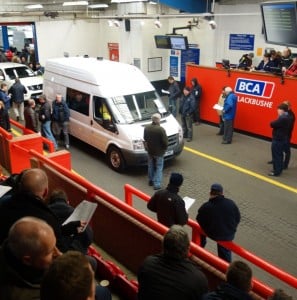 MARKET: LCV values to continue rise?
Values for used LCVs reaching the wholesale sector may continue to rise significantly in the coming months, British Car Auctions (BCA) have claimed.
BCA have studied long-term trend data, and believe a rise may continue despite vans being older and having higher mileages.
They claim 2014 could be another year of record price performance for used vans, as the economy begins its recovery.
Currently, average van prices are up 42.9% compared to five years ago, despite being nearly a year older and having covered 9,000 more miles.
Duncan Ward, General Manager for Commercial Vehicles at BCA, said: "Average values for used LCVs have been substantially higher this year, despite anecdotal reports suggesting that van retailers have been relatively quiet.
"However, the key factor driving the market is the supply of good retail quality stock – or rather the lack of it – and this means there is plenty of competition for the best examples reaching the market.
"Demand has been right across the board, from older higher mileage vans through to younger ex-fleet and lease vehicles, while the few late-plate light commercials on offer can make exceptional values.
"The end result has been record-breaking average values for fleet/lease and dealer part-exchange vehicles.
"As always, good condition is the key and vans with a nice specification and in an attractive retail colour are very desirable.
"While this is good news for sellers, from the buyers' perspective the outlook for 2014 is that supply issues could actually worsen.
"There was a significant drop in new van sales between 2008 and 2009 and with the average van being sold at just under five years old, this will be reflected in the volume of used vans reaching the wholesale markets in 2014.
"This 'supply gap' means the used light commercial vehicle sector may be short of stock for some time to come."