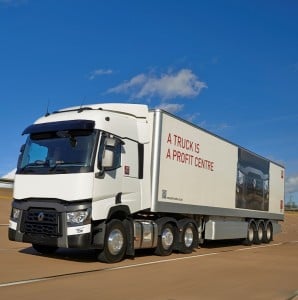 ADDED: New Renault Range Ts for Clive Cowern
Road haulage and pallet distribution company Clive Cowern Transport Services are integrating three Renault Range T 460.25 tractor units into their Scania-dominated fleet.
The Range Ts, supplied by Renault Trucks Midlands on a two-year contract hire deal through BRS, will go on the road early this year.
Joining Clive Cowern Transport's 44-strong mixed fleet, the three Range Ts will operate out of the company's Bridgnorth site and cover up to 140,000km per year.
Clive Cowern, Managing Director, said: "The Range T drives really well and the gearbox is superb, which is what we were looking for.
"The cab is very well laid out with a good floor so I can't see any of our drivers complaining, which is important because driver appeal is a key factor for us."
Clive Cowern Transport Services' mixed fleet can accommodate loads of all sizes, from 35cwt pickups to 44tonne articulated trucks with single and double-deck trailers.
Some of these are contracted on a long-term basis to H L Smith Transmissions and Mann Filters, and carry their livery.