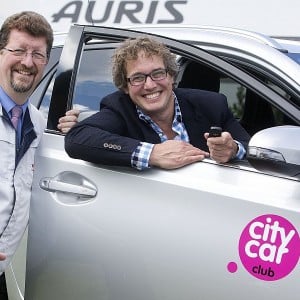 ADDITION: City Car Club bag 75 Toyotas
City Car Club are extending their green credentials by adding 75 newly-launched Auris Hybrid Touring Sports models to their fleet.
With class-leading CO2 emissions from 85g/km, the vehicle's hybrid technology is helping City Car Club reduce the environmental impact of the vehicles they run.
The leading car share company will now be taking 350 Toyota vehicles in 2013, all purchased through Toyota Financial Services.
Neil Broad, General Manager at Toyota and Lexus Fleet Services, added; "More and more businesses are finally getting to see the financial and environmental benefits which can be achieved by switching their fleet to hybrid.
"City Car Club are a good example of how choosing this technology can tick both boxes and we have been delighted to work with them over the years helping with their fleet requirements."
City Car Club have grown steadily since their formation, now running a fleet of 680 vehicles – 80% of which are Toyotas.
The scheme, which enables club members to rent a car for as little as one hour, is proving increasingly popular as people become more budget-conscious.
Auris Touring Sports is the latest full hybrid model to be launched by Toyota, built at their UK manufacturing facility in Burnaston, Derby.
James Finlayson, Managing Director of City Car Club, said; "I was extremely impressed, I had assumed it was just an assembly plant but saw how Toyota manufactures all the car's major components.
"It is very much 'Made in Britain' which we at City Car Club support wherever possible."