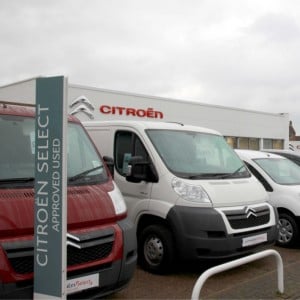 ENHANCED: Citroen extend programme
Citroen are enhancing their Select Approved Used Vehicle Programme to include cars and LCVs up to ten years old or 100,000miles.
Until now, the programme has only covered higher-quality Citroen vehicles of up to seven years old.
Mark Perry, Approved Used Programme Manager at Citroen, said: "It is important to note that we have retained the same Citroen warranty for vehicles up to five years old.
"Uniquely, these cars and vans come with our own Citroen warranty that provides more comprehensive cover than the insurance-backed used vehicle warranties offered by other manufacturers.
"The Citroen Select Approved Used Vehicle Programme is a national scheme with some 150 Citroen dealers who are now able to cater for most customer budgets with quality used vehicles from nearly new to ten years old."
For cars and LCVs up to 5 years old/50,000 miles, the Citroen Select Approved Used Vehicle Programme includes:
HPI/Experian history check
HPI/Experian mileage check
HPI/Experian mileage investigation for vehicles with more than one owner
112-point Citroen Select multi-point check
12 month, unlimited mileage Citroen warranty
12 month Citroen Assist (through AA)
30 day/1,000mile (fault based) Exchange Programme
MoT Test Cover on all vehicles more than two years old
For cars and LCVs that are 5-10 years old/up to 100,000 miles, the Citroen Select Approved Used Vehicle Programme includes:
HPI/Experian history check
HPI/Experian mileage check
HPI/Experian mileage investigation for vehicles with more than one owner
Citroen -backed multi-point check
Minimum six months, unlimited mileage Citroen -backed warranty
Optional Citroen Assist (through AA)