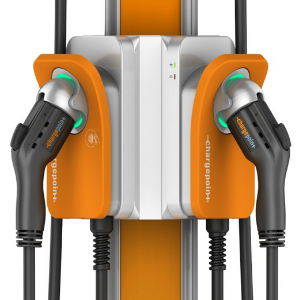 At the 2016 ACT Expo ChargePoint, the world's largest electric vehicle (EV) charging network, unveiled the new CPF25 charging station and upgrades to its Fleet Plan. ChargePoint fleet products and services are designed to cater to the specific needs of commercial fleet operators. The new offerings enhance ChargePoint's fleet solutions, meeting the charging needs of every fleet and shared use scenario, from campuses and government sharing programs to large commercial fleets.
Commercial enterprises that manage and maintain pools of vehicles are increasingly turning to EV models as they seek to renew and update their fleets, thanks to dramatically lower refueling, operating and maintenance costs versus traditional gasoline powered vehicles.  EV fleet vehicles are increasingly joining the 430,000 EVs driven by consumers on US roads to not only help combat climate change but to also improve transportation economics for their owners.
The CPF25 station is a fully networked, 32 amp, Level 2 charging station with design features that make it ideally suited for depot use.  These include an RFID card/smartphone reader for authentication, robust Wi-Fi, and a rugged, easy to mount, compact and attractive case rated for indoor or outdoor use. It comes in 18 and 23 foot cable options with a standard J1772™ connector that can plug into to any EV.  ChargePoint has optional mounting accessories that support wall or pedestal installations with optional cable management.
The updated Fleet Plan, which is used in conjunction with the CPF25 station, offers a range of features to allow for flexible, efficient management of the stations, and associated fleet vehicles. Benefits include:
Maximizing station utilization with real-time information for drivers and fleet operators on which stations are in use or available and what their historical utilization patterns are.
Optimizing vehicle utilization with real-time information on the charging location.
Saving money and energy with energy management features such as scheduled charging to allow charging to coincide with the lowest cost energy rates, and the ability to lower installation costs by stretching existing electrical infrastructure with panel sharing technology.
Supporting fleet drivers 24/7 so fleet operators don't have to.
Supporting fleet managers and station owners business hours, Monday through Friday 8AM to 9PM EST.
ChargePoint also announces the ChargePoint Fleet Card, created for fleets that want to be able to use public infrastructure not owned by the fleet operator for on-route charging. The card allows fleets to pay for fueling costs incurred by its drivers beyond the gates of the depot, giving operators the freedom to leverage ChargePoint's vast network of charging stations as if it were part of the fleet's own infrastructure.
"Adopting EV platforms simply makes sense for any fleet manager," said Pasquale Romano, CEO of ChargePoint. "Not only are EVs much less expensive to operate and maintain but they're also better for the environment. That is why we are seeing forward-thinking organizations making the transition."