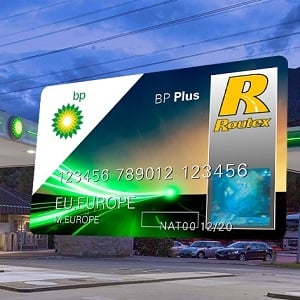 One of the stand out exhibitors at the Commercial Vehicle Show this year was the BP FuelCard stand, and after a short catch up with Andy Allen, who is the Head of Fuel Cards UK, it's easy to see why they have so much to be proud of.
This year sees the launch of their iphone and android app BPme. Available right now, you can download it and after 5 minutes registering yourself, can be driving up to a BP fuel pump and using your phone to unlock and pay.
A brilliant and useful innovation you can find more about here:
https://www.bp.com/en_gb/united-kingdom/products-services/bpme.html
Andy has been with BP for around 20 years and for the last 2 years as the Head of Cards is responsible for moving some of these new innovations forward.
They are particularly proud that this year will see the evolution of BPme from solely a consumer product to their Fuel Card Business. This exciting development gives FuelCard users BP's advanced security features such as spend limits per day, fraud alerts and product locks all available on BPme purchases, and being able to 'pay, fuel and go' with the mobile app will make working with BP Fuel Cards quicker and easier than any other. This is expected to be launched sometime during Summer 2018.
BP has an extensive network in the UK with premium outlets offering everything from Marks & Spencer's to Wild Bean Café's. Their partnership with TomTom to deliver the BP FleetMove telematics is also a great success, providing tracking integration in real time and integration to location.
They have also introduced their "Target Neutral" initiative which is a not for profit division and a great way for businesses to become Carbon Neutral with their fleet. Customers offset their spend for 1p a litre which BP distributes to their Carbon Neutral projects around the globe.
Find out more here : https://www.bptargetneutral.com/uk/