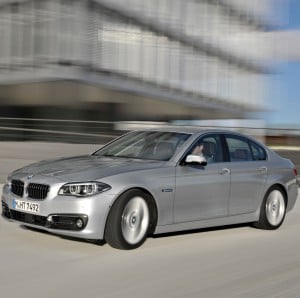 DROP: Efficient Dynamics 5 Series culled
BMW are removing the 520d Efficient Dynamic model from the new 5 Series line-up as the revised SE offers exactly the same CO2 emissions, the manufacturer's Product Operations Manager has confirmed.
Brian Cox said the 119g/km 520d SE's offering of manual or automatic transmission made it easy for BMW to drop the ED variant.
"We were restricted to only manual transmission on the 520d ED; now customers get a choice while all the benefits of Efficient Dynamics remain," he said.
Mid-life revisions of the 5 Series see numerous changes to the line-up, added Mr Cox, but the principle of Efficient Dynamics still remain.
CO2 output on the SE model has dropped from 125g/km to 119g/km, while customers will no longer have to pay the £405 premium charged for the ED model.
The changes see BMW launch Euro VI compliant engines a year before they become mandatory.
One in six BMW UK sales is a 5 Series, with the saloon selling around 15,500 each year.
The Touring shifts 4,500 every year, while the GT hits 1,200 annual sales.
Additional reporting by headlineauto, with thanks.