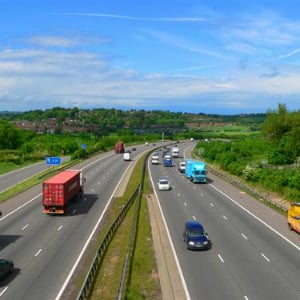 In a new study into car purchasing trends, Auto Trader, the UK's largest marketplace for new and used cars, has revealed that consumers are habitual buyers, except when it comes to the car brand. The survey of c.1,000 UK consumers, revealed that for their next purchase an overwhelming majority of used (81%) and new (76%) car buyers would choose the same type (used or new) of vehicle again.
Whilst slightly more than one in five (22%) of those that owned a used car replaced it with a new one,  the findings run contrary to a commonly held belief that consumers are more likely to 'upgrade' to a new car if they previously drove a used vehicle of the same brand. In fact, used car buyers are nearly 20% less likely to switch between car types than new car owners.
However, our research showed that 60% of all car buyers are open to considering a brand new vehicle, with a third of all buyers open to new or used. The introduction of thousands of virtual new vehicles on Auto Trader in 2016 has helped give consumers more choice when in the market for their next car, opening up all available options in search results for new and used models.
Chris Ward, Advertising Director, Auto Trader, commented: "Consumers may be habitual in their buying pattern but brands clearly have a window of opportunity to influence their purchase early on in the process. A targeted marketing campaign which employs the right advert, aimed at the right audience, and on the right channel, can be very effective in directing buyers to not only a new car, but also to a specific brand. "
The habitual buying behaviour of consumers is also present when it comes to the body-type of the car, with an average of 41% of new car buyers likely to stick to the same as they previously purchased. New hatchback drivers are the most loyal, with 38% of those surveyed who owned one, chose to repeat buy. Interestingly there is growth in loyalty for SUV and 4×4 purchases, with a respective 17% and 7% increase in repeat purchases. Superminis and convertibles recorded the biggest decline in repeat purchases, falling from 6% – 5% and 5% to 3% respectively.
Brand (dis)loyalty
Consumer loyalty takes a fall however when it comes to the make of vehicle, with a significant 68% of used car buyers and 47% of new changing brands between purchases. Whilst loyalty slowly increases with age – 38% of new car buyers aged 55-64 always purchase the same make, compared with 33% of 25-34 year olds – the majority of consumers still like to change brands at all life stages. This fickle behaviour is supported by Auto Trader's own data, which show that less than one in four part-exchange enquiries were for the same brand of car.
When it comes to the type of car brand consumers are most loyal to, volume (Ford, Vauxhall, Honda, Nissan, Toyota, Kia, Hyundai) tops premium (Audi, BMW, Mercedes Benz, Volkswagen), with 25% of volume owners repeat buying, compared with just 16% of premium. However, of all the car brands Volkswagen was identified as the most likely to drive loyalty, with 26% of new VW owners stating they always purchase the same make. This was in contrast to BMW, which was revealed to be the least loyal brand, with just 9% of new owners sticking to the German car maker.
The key to loyalty
Revealingly, when it came to the factors that drove brand loyalty, trust was by far the most influential, with 71% of consumers identifying it as the primary reason for choosing the same make of car. This was followed by brand image and price, both recording 63%. Notably, at 47%, a positive aftersales experience ranked the lowest driving factor. For those new car buyers that chose a different make, a desire for change ranked the highest motivation at 74%, closely followed by price at 68%.
Chris continued: "By providing a fully transparent customer experience, coupled with a choice of cars that are in tune with the local market not only helps secure a sale, but also one that produces the best margin."
For dealers, the research revealed that new car buyers are more loyal than used car buyers, with over half (53%) choosing to revisit for a second purchase. Previously positive experiences (75%) coupled with attractive deals offered by the dealerships (70%) were the most highly ranked reasons new car buyers were enticed back to the same dealership.