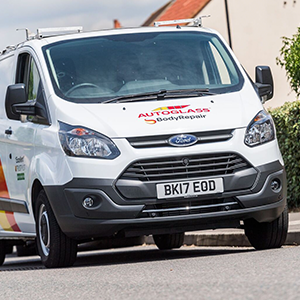 AutoRestore®, the UK body-shop repair business, has undergone a rebrand and from today will be known as Autoglass BodyRepair®. A new logo and brand identity have been unveiled on the company's national fleet of vans and website, and communicated to customers across the UK.
From its headquarters in Northampton, Autoglass BodyRepair® provides a national service to repair cosmetic damage to vehicles; comprised of 150 mobile body-shops and employing 250 people.
The rebranding is part of plans for Autoglass BodyRepair® to target significant growth across the UK, and follows extensive consumer research which identified opportunities to align more closely with Autoglass® – the UK's leading vehicle glass repair and replacement service (and larger sister company within the Belron® Group). While the businesses will continue to operate as separate entities, both brands are committed to solving people's problems with real care.
Greg Stansfield, Sales and Marketing Director at Autoglass BodyRepair® commented:
"We have been supporting UK motorists, as well as fleet and insurance companies for the past 16 years and have built an unrivalled reputation for the high standard of service we provide. With the cost of motoring on the rise, we have a compelling offer for customers seeking a direct and trustworthy service, at their choice of location and attractive price – all of which is reflected in our 5-star TrustPilot rating.
"As part of the Belron® group, we already have global support from experts and innovators to help us develop our services and people, which enables us to have the agility of a smaller company with security and support of an international parent company.  By sharing the same name of our 'Superbrand' sister company Autoglass®, we expect to be able to supercharge our growth in what is an extremely large (but currently still a highly fragmented) market across the UK. We have already had extremely positive feedback on this change."
Taxiarchis Konstantopoulos, Managing Director of Autoglass® commented:
"We are delighted to be able to extend the value of our brand into another part of the Belron® family, which has the same values and pride in excellence but in a different specialist area of vehicle aftercare. Besides the new branding, customers of both Autoglass® and Autoglass BodyRepair® will see no difference in terms of their experience or how they interact with each brand.  At Autoglass® we are grateful to have the trust of both our insurance partners and motorists for vehicle glass services, and we are confident that this will be the case with Autoglass BodyRepair®"