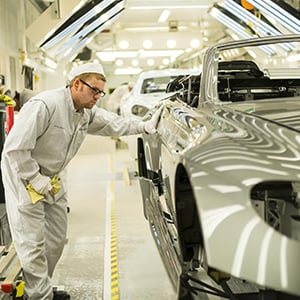 INVESTMENT: £20million pumped into Gaydon site
Aston Martin have kicked off a £20million development programme designed to extend their Gaydon HQ's existing manufacturing capabilities.
The programme, which will create 250 more engineering, manufacturing and commercial functions jobs in 2014, includes the creation of a new chassis and pilot build facility, new offices, and an extension of the parts and logistics storage area.
Overall, the new facilities will cover an extra 10,000 square metres, with work due to be completed in 2015.
Hanno Kirner, Chief Financial Officer at Aston Martin, said: "The investment in our Gaydon HQ forms part of our long-term strategy which is focused around being the number one British luxury sports car brand."
Keith Stanton, Manufacturing Operations Director at Aston Martin, added: "I am very happy to be able to execute another part of our manufacturing strategy by extending our already highly-efficient facility.
"The improvements at Gaydon are a big step forward, and the development will enable us to streamline and finesse our manufacturing processes which, in turn, will allow us to be leaner and even more competitive.
"We have the vision of being the best producer in the luxury sports car sector and a new facility, along with the support of our flexible, highly-efficient workforce, will enable us to achieve our goal."