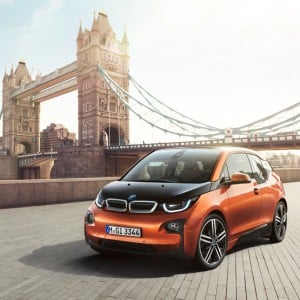 ELECTRIC: BMW i3 revealed this year
Alphabet are urging businesses to consider switching to electric vehicles after launching their new, industry-first fleet service AlphaElectric.
AlphaElectric, which was unveiled on Tuesday at the Saatchi Gallery, London, aims to help fleets make informed decisions on their use of plug-in vehicles.
It comprises of four key steps – initial scoping, charging infrastructure, vehicle choice and mobility options – and is 'marque neutral'.
The launch event included a walk-through tour and addresses from double-Olympic gold medallist James Cracknell OBE, and Caroline Watson, of the Energy Saving Trust.
Alphabet claim a more joined-up approach to EV adoption could double the number of plug-in cars to more than 10,000 by 2016.
Richard Schooling, Chief Executive of Alphabet UK, said: "Our research suggests that there is a significant opportunity for the UK's 29million car drivers to take a fresh look at plug-ins as a real alternative to their petrol and diesel vehicles.
"While there is so much talk about limited battery life, car performance and available charging points, we think the single biggest barrier to EV adoption, both privately and corporately, is lack of joined-up thinking.
"Manufacturers of various new EV models have possibly focused on the benefits of their own vehicles, with not enough time and effort being spent on helping the business or driver to overcome their fears about adopting a new technology.
"Our new service, AlphaElectric walks fleet managers through a simple, four step process that takes away the stress and misconception about EVs.
"We're confident that through initiatives such as ours, we will see another marked increase in EV sales again next year in the UK."
At present, UK adoption of EVs has been modest, with only 138 units sold in 2010 and 1,082 sold in 2011.
Sales rose sharply in 2012 with 2,254 cars registered, while year-on-year sales in August 2013 showed an increase of more than 70%.