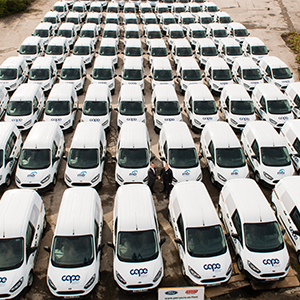 Cape PLC makes a step change within the business moving approximately 75% of their 400-strong LCV fleet to a contract hire solution, whilst at the same time renewing ALD's position as sole supplier for the company's 200 company cars.
ALD has worked with Cape PLC (an international provider of critical industrial services to the energy and natural resources sectors) since 2007, and this new deal is the first time the contract has included the supply of LCVs.
Previously Cape had only used daily rental to manage its fleet of LCVs. In partnership with Cape, ALD conducted a comprehensive review of the fleet policy on LCVs and identified significant savings if the supply of the majority of the van fleet was changed from daily rental to contract hire.
On taking delivery of the first 117 vans from ALD under contract hire, Matthew Hammond, UK Fleet & Transport Manager for Cape PLC commented: "we expect to make significant savings with ALD, in the region of 30% on our annual rental costs."
The overall saving was only one part of the decision making process however, with Mr Hammond also valuing excellent service and support, adding: "This for any business is a significant amount, but was not the underlying reason for the move. During the entire process, I have been extremely pleased with the way ALD have approached things – it is refreshing for a business to have experts on hand to advise and support."
With a mixed fleet of 600 vehicles located across the UK, Cape have a diverse fleet across a broad geographical spread. These variables can often prevent a "one size fits all" solution, with the geographical considerations playing a key role in ensuring vehicles are well suited to their local environment and typical journey type.
ALD gave Mr Hammond the confidence that they could see the bigger picture: "Since the beginning I have felt ALD fully understood my aim. They provided the support, advice and suggestions to help us successfully achieve the results required – it was refreshing to feel everyone concerned felt involved and working together."
He continues: "They listened, advised, supported and delivered. At no point did I feel like I was being sold anything. It was a joint process to achieve results."
James Burnett of ALD Automotive gave further insight as to those involved, stating: "It was a massive effort across the business, with personnel involved from New Business, Account Management, LCV & Fleet Consultancy and our Customer Services team."
As part of the management of the fleet, ALD will also be providing telematics through ProFleet for their company cars to aid managing the fleet. ALD is also implementing a Personal Contract Hire (PCH) offering to support Cape's 85-100 cash takers.