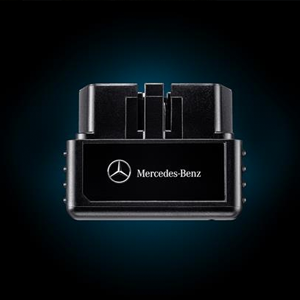 The Mercedes PRO Adapter enables customers to use initial services from Mercedes PRO connect for their fleets. When inserted into the service port in the vehicle, the adapter establishes a connection between the vehicle, driver's smartphone and fleet manager.
The web-based service links the fleet manager with all vehicles and drivers in the fleet via the Vehicle Management Tool. Initially the Mercedes PRO Adapter will be available for Vito and Sprinter vehicles in 19 European markets, including the United Kingdom, with others set to follow.
The Mercedes PRO Adapter makes it possible to manage vehicles online as well as to check vehicle information such as location, fuel level or maintenance intervals almost in real time. Users communicate with the fleet manager via the Mercedes PRO Adapter app on their smartphone. As well as optimising vehicle dispatching,
As well as optimising vehicle dispatching, interaction between fleet managers and drivers gives fleet customers ranging from small to medium-sized fleets considerable scope for improvement when it comes to effective fleet management.
It also reduces the effort required for the business analysis – mileage for the whole fleet can be analysed, for example. Additional services from Mercedes PRO connect are already being planned, along with support for other model series by way of an integrated ex-factory solution in new vehicles.
Access to first connectivity and fleet services
"The Mercedes PRO Adapter gives our customers access to advanced connectivity and fleet solutions. These services make the fleet manager's life noticeably easier, can reduce costs and enable resources to be optimised when scheduling drivers and vehicles.
Customers will also benefit who want to leverage all the technical possibilities of their existing fleet containing Vito and Sprinter vehicles in order to boost efficiency and make their business more professional. Looking ahead, we will continue aligning Mercedes PRO connect connectivity and fleet services with our customers' requirements and to work with them in order to develop and optimise our portfolio on an ongoing basis", explains Björn Sack, Head of Project Connectivity Mercedes-Benz Vans.