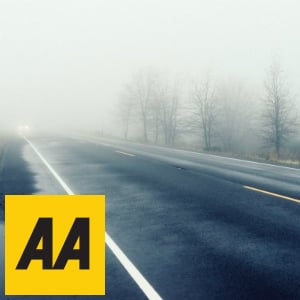 The AA has reminded businesses to ensure all company vehicles are fully prepared for the coming season, with the launch of its handy 'TRACE' guide to winter driving. As dark nights draw in and the weather gets colder, the UK's most popular breakdown cover provider has released some useful tips to make sure businesses don't get caught out by common seasonal problems.
Stuart Thomas, head of fleet services at The AA, explains: "Many businesses have drivers who cover a lot of mileage and, in winter, they can be subjected to delays from severe road conditions. By preparing in advance and taking a few simple steps to ensure their vehicle is ready for the colder months, businesses can avoid potentially damaging repair costs and delays."
T – Tyres
Tyres need to be in good condition and fully inflated. Consider special winter tyres with more grip for high-mileage drivers, particularly in more rural locations. Snow chains, which can be attached if conditions are severe, can also be an alternative.
R – Reports
Allow plenty of time for your journey and plan around the weather reports and traffic updates. Always be prepared and ensure you communicate with clients and customers if delays are likely.
A – Anti-freeze
If there isn't adequate vehicle anti-freeze within the cooling system, your business could incur potentially severe costs from damage such as a frozen engine or cracked cylinder block. You should also take this opportunity to ensure windscreen wipers and working well and topped up with washed fluid that won't freeze.
C – Cover
Check your business breakdown cover. If the worst happens and a vehicle breaks down, you'll save costs and time, with repairs covered and dealt with straight away.
E – Emergency
Carry an emergency kit. Bad weather can cause severe delays so be prepared with some basic equipment such a thermos flask, spray on de-icer, torch with a hazard warning flasher light and blankets.
Thomas concludes: "Breakdowns can be more common, more dangerous and more inconvenient during the winter months. Just one breakdown on the motorway could cost a business more than £250, not including loss of earnings, whereas the right breakdown package would see repairs and parts covered on the spot. However, preparing your car for the winter so you don't break down in the first place is the best approach of all."