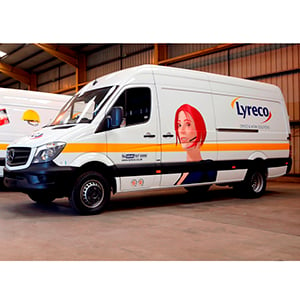 Ready to ride
57 new Mercedes 5t vans extends Lyreco business
Since 2010, Burnt Tree has been the principal supplier of rental vehicles to leading office supplies company Lyreco UK, and the Shrewsbury based company has recently extended its business relationship with Lyreco by supplying them with their latest order for new 5tonne vehicles.
As part of this fleet replacement programme, Burnt Tree have supplied Lyreco with 57 new Mercedes 513 5t integral vans on a full five-year contract hire deal that also includes FleetForce, Burnt Tree's popular online fleet management tool. Burnt Tree has also supplied Lyreco with a further 7.5t DAF rigid box van with tail lift and a VW Caddy Maxi van.
As Jennie Lucas, National Distribution Manager at Lyreco explains, "When we were looking to replace our 5tonne vehicles, Burnt Tree impressed us not only with the service that we had received with our previous 3.5t vehicles from them but also with their FleetForce fleet maintenance programme that was now available to us. The impressive range of fleet management information that is available through FleetForce was a major selling point to us as these 5t vehicles fall within the scope of our operator's licence."
Lyreco are one of the UK's fastest growing office supplies companies and, within their distribution fleet, they utilise a considerable number of 5t vehicles, finding them to be far more flexible, offering better productivity than 3.5tonners, for the distribution of key weight related products.
At the handover of the first of the new 5tonne vehicles, Tracey Cox, Business Development Manager at Burnt Tree said, "Having been involved with Lyreco since 2010, we have been able to forge strong links between the two companies over this four year period. We are looking forward to further developing this close relationship over the working life of these additional vehicles."
The first 30 new 5tonne vehicles from Burnt Tree have just gone into service within the national Lyreco distribution fleet, with the balance being delivered into Lyreco later this month.