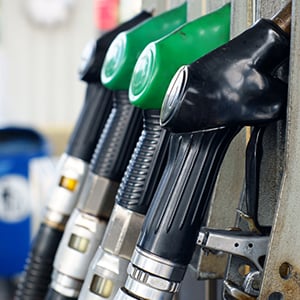 Pump profligacy coming next?
Pump price plunges don't mean a return to burning cash
Fleet managers and finance directors may have great news for their businesses in terms of lower expense claims as fuel costs – so long the bane of their lives – continue to tumble south.
The price of unleaded petrol has fallen to its lowest level in five years, and media speculation intensifies with claims that the supermarket price war could soon result in a pound per litre on the forecourt.
Currently, the average unleaded price across the UK is 109.8p a litre, according to the information group Experian Catalist. The last time it dipped below 110p was exactly five years ago, on January 3rd, 2010. With this in mind, just recently some forecourts in the West Midlands have dipped their prices and begun selling petrol for £1 per litre.
However fuel prices are determined more by taxes than by the cost of oil.
According to the RAC, if a tank of petrol costs £61 then VAT and fuel duty account for £41 of that figure. But with falling treasury revenues in recent years there will be no appetite in Downing Street to cut the duty that it has already frozen for the last three years.
Indeed, in a General Election year, it could be a recipe for disaster to increase the duty as Government and Opposition try and out-manoeuvre each other to increase funding for the NHS, for example, which is still regarded as the political golden fleece.
With all this said, we cannot return to the old ways of 'pump profligacy'. Fleet managers have understandably imposed journey moratoriums and businesses are using technology more to stay in touch including video-conferencing and Skype, for example. I see this trend continuing, irrespective of the price of Brent Crude. We simply cannot go back to testosterone travel trends, the notching up of business miles to boost egos and expenses.
Martin Wedge is Managing Director at OVL Group, a specialist car leasing firm.