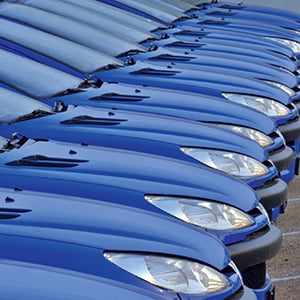 Sold
In his debut article for FleetPoint, Paul Murdoch of Hitachi Capital Car Solutions drops some knowledge on salary sacrifice.
Five years ago, salary sacrifice car schemes were unfamiliar territory for most and commonly misunderstood by employees. This impacted early schemes in terms of take up and success but during recent years salary sacrifice has started to mature and the scheme is implemented effectively.
One of the most important things to remember with Salary Sacrifice is schemes do not need to be financially 'bullet proof'. In fact, this only increases the cost of joining the scheme, making it unattractive. Removing all risk from a scheme is near impossible, whereas a balanced approach to risk is proven to deliver results. In 2014, no single Hitachi Capital salary sacrifice client was billed for costs associated with risk.
Successful are the schemes that make it simple for employees and employer alike. Our specialist team works with clients to provide schemes that focus on the driver experience, adopting a simplistic approach. Indeed, the only real complex element of a salary sacrifice scheme should be the driver working out which colour car they want.
Stimulation and take up, however, will not materialise without effective communications and effective communication is part of employee education. Today, there is a higher social understanding of leasing over outright purchase, therefore benchmarking the product effectively against alternative funding options, such as Personal Contract Hire, is essential. That said, this knowledge has impacted take up, which is often higher than expected, exceeding 8% in the first year in some cases.
Salary sacrifice is not for everyone. While it is possible to offer vehicles through salary sacrifice schemes to suit all budgets, employee's personal circumstances play a large part in scheme take up. Profiling customers thoroughly will determine both suitability and appetite for a salary sacrifice scheme, and can reveal critical aspects necessary for a scheme to work, such as ensuring a particular car or budget of vehicle is offered.
Another misconception is the need for an existing company car scheme to offer salary sacrifice. Hitachi Capital can administer the entire process from start to finish, including setting up manufacturer terms, handling collections and disposals of vehicles and providing valuable management information to the employer for reporting to the Inland Revenue.
Finally, companies can save large amounts in National Insurance contributions through salary sacrifice right from the offset. A well implemented scheme can save companies between £200-500 per employee over a three year period in National Insurance contributions alone. Combined with reducing associated grey fleet risks, as well as providing a valued employee benefit that can help attract, motivate and retain staff, salary sacrifice can become a valuable asset beyond simple financial aspects.
Paul Murdoch is Business Development Manager of Salary Sacrifice at Hitachi Capital.