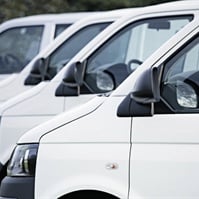 Sold
Over 1,500 light commercial vehicles for sale this Thursday
BCA Blackbushe is staging its largest ever light commercial vehicle sale on Thursday 14 May as the regular weekly sale gets even bigger.
The sale will offer over 600 vehicles with a wide variety of makes, models, ages and conditions, meaning there will be something for everyone looking for a good quality working vehicle.
BCA will sell through three auction halls with every vehicle available to Live Online buyers.
The event will also mark the launch sale at Blackbushe for Arval who will offer a superb selection of three to four year old contact hire vans in a new fortnightly sale section.
The sale is just one highlight of a week that will see BCA offer over 1,500 light commercials, including nearly 300 Royal Mail LCVs available at Measham, Belle Vue Manchester Commercials and Blackbushe, and over 120 LCVs from Volkswagen Financial Services offered at Belle Vue and Blackbushe.
BCA's Head of Commercial Vehicle Sales, Duncan Ward, commented: "With good quality vans still at a premium in the used market, it makes sense to take advantage of [our] market leading sales programme for LCVs."
BCA's biggest ever commercial sale takes place at on Thursday 14 May.