A new report published yesterday (18th January 2022) by Element Energy, commissioned by the Mayor of London, sets out the scale of the action required to move London towards a greener future and net-zero carbon emissions by 2030.
The new analysis shows that more action will be required by City Hall, particularly around reducing vehicle use in London, but that the Mayor does not have the funding or powers to deliver everything that's required alone.  Sadiq will call the report a stark wake-up call for the Government on the need to provide much greater support to help London reach net-zero by 2030 and help the UK reach our national target, announced before COP26.
Between 2000 and 2018, London achieved a 57 per cent reduction in workplace greenhouse gas emissions, a 40 per cent reduction in emissions from homes, but just a 7 per cent reduction in emissions from transport.
In order to reduce transport emissions by anywhere close to the amount required to clean up London's air, achieve net-zero by 2030 and cut congestion, the capital will have to see a significant shift away from petrol and diesel vehicle use and towards walking and cycling, greater public transport use and cleaner vehicles. At the moment, just two per cent of vehicles on the roads in London are electric.
The Mayor has already taken ground breaking action to tackle toxic air, carbon emissions and congestion in the capital by introducing and then expanding the Ultra Low Emission Zone and tightening Low Emission Zone standards – which is expected to lead to a five per cent fall in CO2 emissions from cars and vans in the zone and a 30 per cent cut in toxic nitrogen oxide emissions from road transport. But the new report shows how much more action is required.
The Mayor will say that the cost of inaction – to our economy, livelihoods, the environment and the health of Londoners – would be far greater than the cost of taking the necessary action to transition to net-zero and reduce air pollution.
Last year, we saw the impact of the climate emergency first-hand in London with soaring temperatures and flash floods in the capital. City Hall analysis has shown that if extreme temperatures and flooding get worse, a quarter of London's rail stations, 1 in 5 schools, nearly half of London's hospitals and hundreds of thousands of homes and workplaces will be at risk of flooding in the future.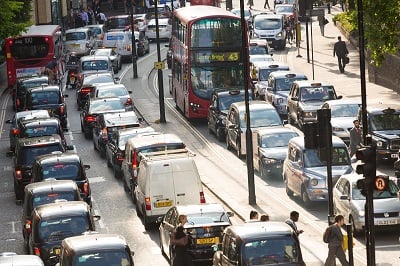 The capital has seen a shift to driving during the pandemic with the cost of congestion rising to over £5 billion last year, leading to gridlocked roads and toxic air pollution. The number of miles being driven in the capital has increased in recent years, despite statistics showing that more than a third of car trips in London could be made in under 25 minutes by walking, and that two-thirds could be cycled in less than 20 minutes.
The toxic air pollution being caused by London traffic is leading to nearly 4,000 premature deaths a year and children growing up with stunted lungs. The action already committed by the Mayor will reduce the number of air quality-related hospital admissions by one million by 2050, helping save the NHS and social care system £5 billion.  However, if no additional action is taken to reduce air pollution beyond the existing polices, around 550,000 Londoners would develop diseases attributable to air pollution over the next 30 years and the cumulative cost to the NHS and the social care system is estimated to be £10.4 billion.
The Mayor believes this is also a matter of social justice – with air pollution hitting the poorest communities the hardest. Londoners on lower incomes are more likely to live in areas of the city most badly affected by air pollution and least likely to own a car.  Nearly half of Londoners don't own a car, but they are disproportionally feeling the damaging consequences polluting vehicles are causing.
The report sets out that to achieve anywhere near a 27 per cent reduction in car vehicle kilometres, London will need a new kind of road user charging system implemented by the end of the decade at the latest. Such a system could abolish all existing road user charges – such as the Congestion Charge and ULEZ – and replace them with a simple and fair scheme where drivers pay per mile, with different rates depending on how polluting vehicles are, the level of congestion in the area and access to public transport. Subject to consultation, it is likely there would be exemptions and discounts for those on low incomes and with disabilities, as well as consideration around support for charities and small businesses.
The Mayor recognises that London could benefit from more sophisticated types of technology to introduce this kind of simple, fair road user charging scheme and has therefore asked Transport for London to start exploring how it could be developed. However, it's clear the technology to implement such a scheme is still years away from being ready.
Given the urgency of the climate crisis and the damaging impact of toxic air pollution, the Mayor believes bold action must be taken now. That's why the Mayor is announcing today that he is considering a number of policies that could be ready within the next few years to encourage Londoners and those who drive within London to shift from polluting cars to electric vehicles, public transport and sustainable active travel, such as walking and cycling.
The potential approaches under consideration are:
Extending the Ultra Low Emission Zone (ULEZ) even further to tackle more of the dirtiest vehicles: extending the current zone beyond the north and south circular roads to cover the whole of Greater London, using the current charge level and emissions standards.
Modifying the ULEZ to make it even more impactful in reducing emissions: building on the existing scheme by extending it to cover the whole of Greater London and adding a small clean air charge for all but the cleanest vehicles.
A small clean air charge: a low-level daily charge across all of Greater London for all but the cleanest vehicles to nudge behaviour and reduce the number of short journeys by car
Introducing a Greater London boundary charge, which would charge a small fee to non-London registered vehicles entering Greater London, responding to the increase in cars from outside London travelling into the city seen in recent years.
The Mayor and TfL will now begin a period of consultation with Londoners, local government and businesses about the way forward to achieving the clean, green and healthy future London and the world desperately needs.
All options under consideration would be subject to full equality impact assessments, with mitigations and exemptions put in place for Londoners on low incomes and with disabilities a key focus of any scheme development. The Mayor is determined to deliver a just transition to net-zero in London by not only making sure those on lower incomes are always protected, but by ensuring the wider benefits of moving to a green economy, including more jobs, lower fuel bills and better health outcomes, are felt by everyone, particularly the poorest and most disadvantaged in London.
Subject to consultation and feasibility, the chosen scheme would be implemented by May 2024.
The Mayor of London, Sadiq Khan, said: "This new report must act as a stark wake-up call for the Government on the need to provide much greater support to reduce carbon emissions in London. It's clear the scale of the challenge means we can't do everything alone.
"But I'm not willing to stand by and wait when there's more we can do in London that could make a big difference. We simply don't have time to waste. The climate emergency means we only have a small window of opportunity left to reduce carbon emissions to help save the planet, and, despite the world-leading progress we have made over the last few years, there is still far too much toxic air pollution permanently damaging the lungs of young Londoners.
"This is also a matter of social justice – with air pollution hitting the poorest communities the hardest. Londoners on lower incomes are more likely to live in areas of the city most badly affected by air pollution and least likely to own a car.  Nearly half of Londoners don't own a car, but they are disproportionally feeling the damaging consequences polluting vehicles are causing.
"We have too often seen measures to tackle air pollution and the climate emergency delayed around the world because it's viewed as being too hard or politically inconvenient, but I'm not willing to put off action we have the ability to implement here in London. I'm determined that we continue to be doers, not delayers – not only to protect Londoners' health right now, but for the sake of future generations to come.
"It's clear the cost of inaction – to our economy, to livelihoods, to the environment and to the health of Londoners – would be far greater than the cost of transitioning to net-zero and reducing toxic air pollution. That's why I'm today beginning a conversation with Londoners, local government and businesses about the best way forward to create the green, sustainable city we all want to see."
Christina Calderato, Director of Transport Strategy and Policy at Transport for London said: "Road based transport has for many years been a major contributor towards poor air quality and carbon emissions and we are determined to reverse this through a wide range of programmes across TfL. The world-leading road user charging schemes we've delivered throughout the last 20 years have been really effective in addressing congestion and tackling air quality across London, but it is clear that as a city we need to go further. These new approaches will allow us to take further steps towards a net-zero city and we will ensure that Londoners and those who regularly visit London are involved as we progress this work in more detail."
Rosamund Adoo-Kissi-Debrah, FBSA, said: "After last week's code red alert, it is very clear that more action is needed to improve air quality in London now. Measures such as road pricing and expanding the Ulez will mean everyone's health will benefit. We know measures like the Ulez work and have led to a 44% reduction in roadside nitrogen dioxide concentrations in central London. We need more approaches like this, otherwise children like Ella will continue to die. On Monday 24th January Ella would have turned 18."
Professor Lord Nicholas Stern, Chair of the Grantham Research institute on Climate Change and the Environment at the London School of Economics and Political Science, said: "It is very good to see the Mayor of London stimulating debate about the challenges of reaching net-zero emissions in the capital by publishing this set of options. The latest science shows us the ever-more urgent need for action. Cities can lead the way to a zero -carbon economy . This transition will create jobs and growth, and if done well, should also cut air pollution and congestion, making London a more attractive, healthy and productive city."
Mark Watts, Executive Director, C40 Cities said: "Cities have critical agency in the global response to the climate emergency. London's net zero exercise shows how taking big, bold decisions now will unlock huge co-benefits for jobs, health, liveability and fairness in the capital, improving Londoners' quality of life for decades to come. Everyone who supports the UK's net zero agenda needs to roll up their sleeves and back Mayor Khan in determining how best to deliver a better low-carbon future for London."
Jemima Hartshorn, Mums for Lungs, said: "Today is a good day for London's kids. The Mayor has re-emphasised his commitment to cleaning up the toxic air by reducing traffic dramatically during his current tenure. Currently thousands of Londoners are still dying prematurely of illnesses linked to air pollution, but with the right schemes in London, this will be a thing of the past. We now call on national Government to give the Mayor the powers and funds to future-proof London and follow his leadership in putting health first."
Oliver Lord, UK Head of Clean Cities Campaign said: "This is one of the most significant announcements from any European city right now. No leader should declare a climate emergency and air pollution crisis and then skip the details, so I congratulate the Mayor and his team on this report. With these plans, the Mayor commits London to a growing momentum to phase out polluting cars. We now need all actors to play their part – the London boroughs and this Government included – so that climate talk becomes the climate walk."
Nick Bowes, Chief Executive of Centre for London said: "The Mayor's ambitious targets for London to reach net-zero carbon emissions by 2030 are to be applauded but as this report highlights, it is going to take a monumental effort and some very difficult decisions to achieve them.
"Transport is key to meeting the Mayor's goals, and City Hall will need greater support from government to get there, including agreeing a fair and sustainable funding deal for Transport for London.
"The Mayor is right to call for something beyond current initiatives like the ULEZ, and Centre for London has long-called for a fairer system of road user charging so we're pleased to see that this is up for consideration. If implemented, pay per mile road user charging has the potential to be a game changer in the shift from polluting cars to public transport, walking and cycling, including schemes."
RAC head of roads policy Nicholas Lyes said: "These proposals would create massive financial challenges for individuals, families and businesses who run a car in London and even for those who visit the fringes of the capital. We all want to see cleaner air and cleaner vehicles on the road and it's right the Mayor has ambitions to reduce emissions from road transport but these proposals could be beyond the means of many and will punish those who simply cannot afford an electric car. Our research suggests fewer than a third of drivers in London expect to switch to an electric vehicle within the next five years, and at the same time the Mayor himself cannot commit to a zero-emission TfL bus fleet until 2037.
"Worse still, proposals to charge vehicles outside of London to enter the boundary is likely to impact hardest on workers such as carers, tradespeople and night-time economy staff for whom there is no alternative to using a vehicle. At a time when the basic cost of living for Londoners is soaring, these proposals seem to be poorly timed, so we strongly urge the Mayor to think again instead of defaulting to extracting more money from the pockets of London's drivers."
Tanya Sinclair, Policy Director – UK & Ireland at ChargePoint said: "We support road pricing, so long as it is designed with drivers and fleet operators in mind. Road pricing needs to be considered in the context of all the taxes, incentives and payments drivers make. It's a balancing act – the UK government needs to make sure that it isn't giving out grant incentives with one hand and then taking them back through road pricing. The road pricing formula must encourage drivers to make cleaner vehicle and driving choices and no EV driver should pay more or lose out as a result of road pricing.
"However, this doesn't mean EVs should pay nothing. They use the road like any other vehicle and should contribute appropriately, especially when it comes to reducing overall congestion. With Electric Vehicle numbers on the rise, the era of 'freebies for EVs' in motor taxation is coming to its end.
"As important as road pricing itself is, how it is communicated to drivers, especially those thinking about EVs for their next car is crucial. Government's messaging needs to ensure that people feel supported and encouraged into buying clean vehicles. If this isn't kept in mind, consumers are less likely to make the change and the UK will miss its climate change targets."
Liam Griffin, CEO, Addison Lee: "Addison Lee supports the Mayor's ambition to make London a net zero city by 2030. The current approach focusses on removing vehicles from London's roads by increasing taxes on road use; however, to truly remove pollution from the capital's air the main focus should be supporting drivers to switch to full electric vehicles as soon as possible. We are doing our bit by electrifying our entire fleet by 2023 – which will remove an estimated 20,000 tonnes of CO2 from London's roads each year. We call on the Mayor to be clearer on whether his aim is to remove pollution or congestion.
We urgently need an EV charging infrastructure revolution to ensure that fleets and private vehicle owners can shift to fully electric vehicles as soon as possible. We are encouraging the Mayor to start talking to fleet operators and professional drivers to fully understand the importance of a more comprehensive rollout of EV infrastructure."