Covid-19 has significantly shifted consumer expectations and business functions as the pandemic forced people to adapt to a new way of living. Whilst auto sales are dramatically down, the number of Electric Vehicles (EVs) on our roads are soaring. In the UK, 17,110 plug-in cars were registered throughout October this year, seeing BEVs and PHEVs taking 12.1% of the market for new cars.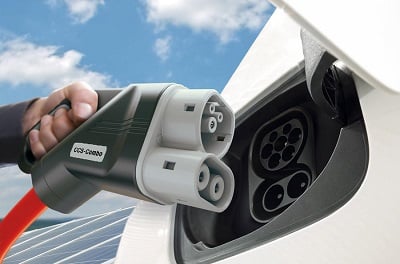 Within the EV industry, this is no surprise, though maybe the sudden push is a welcome, though the slightly unexpected consequence of the current crisis. Estimates suggest that In 2040, some 60 million EVs are projected to be sold, equivalent to 55% of the global light-duty vehicle market and with calls for the UK government bringing forward the ban on selling new petrol, diesel or hybrid cars from 2040 to 2030, the electric revolution is approaching at speed.
We are seeing this manifest most quickly within the fleet sector. The crisis has also accelerated the move to online shopping as people are forced to stay home. This expansion isn't just in the areas predicted, but across the retail board, with double the amount of people going online for their weekly grocery shop compared to the pre-pandemic.
Whilst delivery traffic has grown, the crisis has allowed people to have a glimpse into a cleaner world as total traffic fell to historic lows. With the expected international impetus put on a green recovery with the election of Joe Biden as the next President of the USA, the demand for cleaner air and a more sustainable future is stronger than ever before.
It is clear now that the electrification of transport is a key weapon in this fight, however, there could be a stumbling block for the UK. Some have raised concerns regarding its outdated electric grid's ability to support the charging of electricity.
However, EVs offer a key avenue to help balance the grid. EVs are not an additional burden to the electricity system as some critics may claim, but, part of the solution, particularly when the balance of the electricity system is at risk, thanks to smart charging.
Smart charging refers to a charging system where electric vehicles, charging stations and charging operators share data connections. Whilst this allows fleets a host of features that benefit them, such as integration with existing fleet management software to ensure maximum utility and that all vehicles are always ready for the coming days routes, it also has huge benefits for balancing the grid.
Through smart charging, charging stations may monitor, manage, and restrict the use of charging devices to optimise energy consumption, thus actively and passively managing spikes in demand. For example, whole networks or individual depots can lower charging rates during peak times or create an artificial peak by charging numerous vehicles at their maximum rate simultaneously.
Controlling the load and avoiding a peak or stacked-power situation, by creating a rotation for charging or sharing power among multiple vehicles, should be an important part of any fleet or charging provider's strategy.
For large numbers of vehicles charging simultaneously, networked EV charging solutions also offer the ability to monitor real-time energy use, control costs by setting a power ceiling to avoid demand charges and even install more EV charging stations, so that additional cars can charge through power management.
Even if the existing local infrastructure can support charging larger fleets, many operators are installing microgrids, including distributed energy resources (DERs) such as solar panels and battery systems, to support the fleet's energy needs.
DERs can help the fleet operator avoid overtaxing the existing power grid during peak energy demand periods related to the time of day or weather conditions. More importantly, DERs help guarantee the uptime of charging stations by avoiding any interruption in charging due to excess demand on the grid or power interruptions.
The Future
We are not far from a time where charging stations not only talk with the power providers to find the cheapest times to charge but will speak with them and other chargers to gauge when to charge to make the least impact on the grid.
In the right circumstances and where convenient for the driver or fleet, this will soon lead to energy stored in the battery moving back into the grid to help manage peaks in demand. It is when this technology is deployed on masse that the reality of the vision for smart charging will be realised.
Time to make improvements                                                    
These measures will go some way to lessening the impact of vehicle electrification on the grid, there will still need to be investment from the power industry to ensure that there are enough places with enough capacity to support the rapid and high-power DC charging hubs that drivers need for peace of mind on long journeys.
This should not be seen as a threat to the grid and the energy industry, but more as an opportunity. The past ten years have seen a huge push for efficiency in power consumption. A building today uses only a small proportion of what it did in the past, and this gap is only going to get wider, Electric Vehicles offer a real opportunity for power companies to make the most of their recent investments in generation and recoup the costs and further the generation of ever greener power.
How governments and businesses respond in the coming months will have a lasting impact on economies, health and the environment for generations to come. To meet consumers demands for a cleaner future, and to take advantage of the long-term savings Electric Vehicles offer, businesses need to accept the critical role they play in ensuring a green recovery.
Amazon and DPD have already announced that they will both be moving towards an electric delivery fleet as part of their climate pledges, and anyone who knows fleet knows that where they lead, others must follow or be left behind.
---
Author: André ten Bloemendal, Vice President of Sales in Europe for ChargePoint