The UK automotive industry has today published a new seven-point plan to ensure every driver in Britain can benefit from an electric vehicle charging network that is affordable, available and accessible to all. The plan, designed to drive collaboration between government, industry and all other stakeholders, calls for mandated targets for infrastructure rollout, backed by an independent regulator to keep consumers at the heart of planning.
Since 2011, government, local authorities and the charging infrastructure sector have successfully delivered a 3,000% increase in the number of standard public chargepoints,1 and the UK's provision of one rapid charger per 32 battery electric vehicles is the best in the Western world, behind only China (1:11), South Korea (1:12) and Japan (1:17).2
However, as demand for electric vehicles has surged – accounting for more than one in six new cars in 2021 – standard public charging infrastructure has struggled to keep pace. Plug-in cars on the road grew by a phenomenal 280.3% between 2019 and 2021, but standard chargepoints increased by just 69.8% in the same period. Meanwhile, battery electric cars in the parc rose by a staggering 586.8%, whereas rapid/ ultra-rapid charger stock grew by only 82.3%.3 This is undermining consumer confidence to make the switch, with range anxiety now replaced by charging anxiety.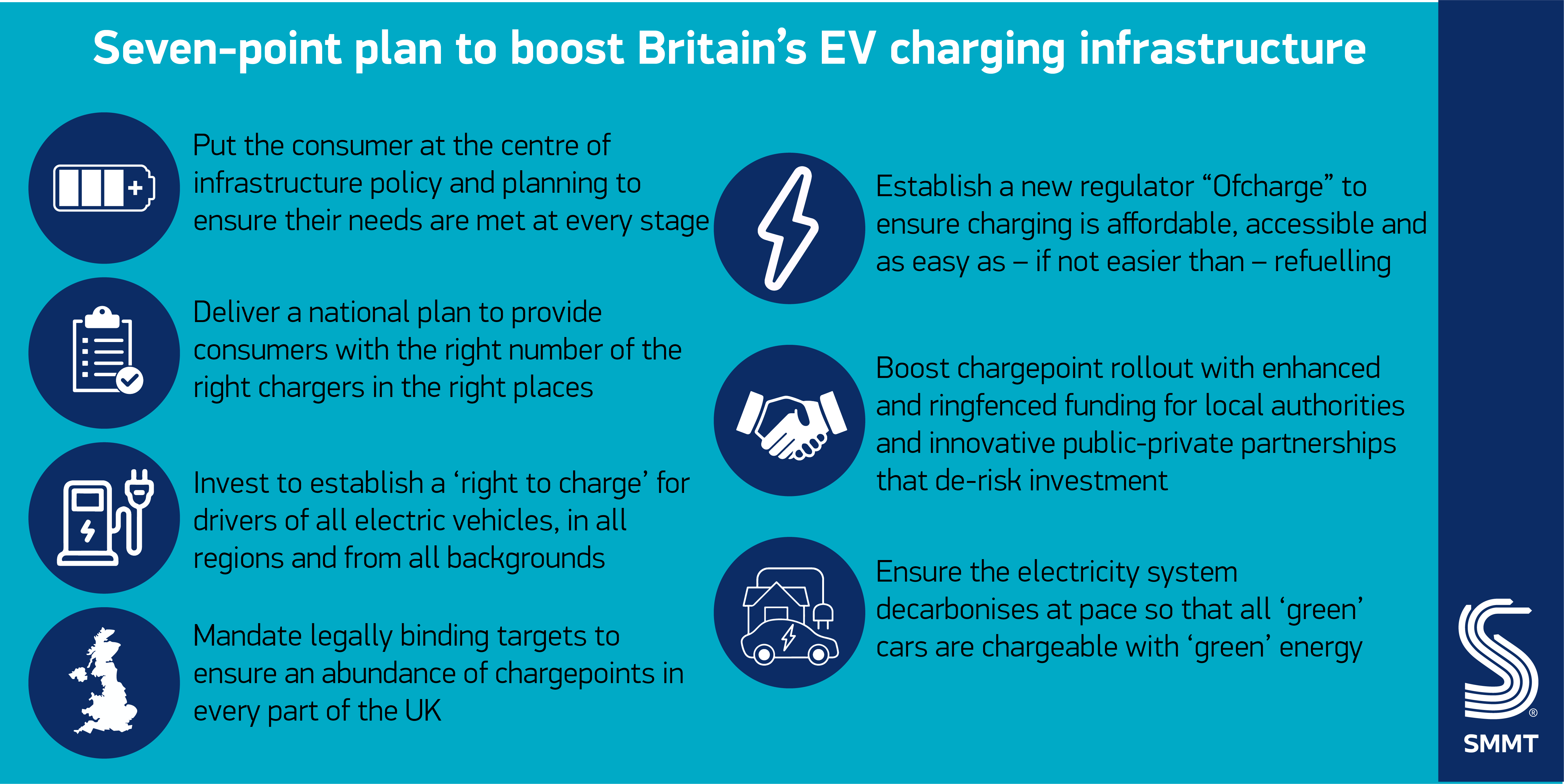 Although most current plug-in car users charge at home, public chargers remain critical to consumer confidence and are still relied upon by many commercial fleets, as well as the third of British households that do not have designated off-street parking. Furthermore, drivers face a growing regional divide in chargepoint availability. At the end of 2020, the ratio of electric cars to standard public chargers was 1:37 in the north of England, compared with 1:26 in the south – and in 2021, the ratio deteriorated significantly in the North to 1:52, compared with 1:30 in the south.4
To give all drivers the confidence they will be able to charge as easily as they refuel, wherever they live or work, the sector is proposing a nationally coordinated and locally delivered infrastructure plan that puts the needs of consumers first, while also giving chargepoint operators and local authorities certainty to install the right number of the right chargers in the right places ahead of need, across every part of the UK.
The industry is also calling for the creation of a new regulatory body, 'Ofcharge' (the Office of Charging), to monitor the market, including charging price levels and affordability, and to enforce regulated minimum standards. This would keep the consumer at the heart of infrastructure planning and rollout to ensure every region of the UK is in readiness for the end of sale of new petrol and diesel cars in 2030, with a unified approach bringing together drivers, chargepoint operators, energy companies and local authorities.
With car makers having already invested billions of pounds to bring more than 140 models of plug-in car to market in the UK and 55 more to be launched this year, a guarantee on infrastructure provision will give consumers the confidence to make the switch in even greater numbers.
Mike Hawes, SMMT Chief Executive, said, "The automotive industry is up for the challenge of a zero emission new car and van market by 2035. Delivering this ambition – an ambition that would put the UK ahead of every major market in the world – needs more than automotive investment. It needs the commensurate commitment of all other stakeholders, especially the charging industry as surveys show that range anxiety has been replaced by charging anxiety.
"Our plan puts the consumer at the heart of this transition, assuring them of the best possible experience backed by an independent regulator. With clear, equivalent targets and support for operators and local authorities that match consumer needs, government can ensure the UK has a chargepoint network that makes electric mobility a reality for all, cutting emissions, driving growth and supporting consumers across the UK."
Unlocking the full environmental and socio-economic benefits of the transition to zero emission mobility is contingent on collaboration involving industry, government and key sectors, including fleets, infrastructure and energy. If action is taken, SMMT forecasts the new plug-in car market will continue to grow rapidly, resulting in a UK car parc comprising 9.3 million plug-in cars by 2030 (27.0%) and 18.4 million by 2035 (54.8%), of which 6.9 million (20.1%) and 15.3 million (45.6%) respectively are zero emission, thus ensuring road transport delivers its part in the UK becoming the first major nation to be net zero.5
Seven steps to delivering consumer-centric charging infrastructure for zero emission mobility
Embed consumer-centricity in policy and a national plan on charging infrastructure
Develop and implement a nationally coordinated but locally delivered infrastructure plan
Invest significantly to uplift all types of charging infrastructure, particularly public chargers, ahead of need
Set binding targets to ensure adequate public chargepoint provision and social equity
Enact proportionate regulation to deliver the best outcomes for consumer experience and expansion of provision
Provide adequate enabling support to incentivise and facilitate delivery of charging infrastructure
Ensure electricity networks are future-proofed and fit for purpose for zero emission mobility
Patrick Gallagher, Chief Operating Officer at Addison Lee:
"We welcome reports from SMMT and Which? calling for improvements to the EV charging network. Addison Lee has committed to be fully electric by 2023, to play our part in tackling climate change and helping to clean up London's poor air quality.
"However, our experience of our EV roll out so far tells us that insufficient charging infrastructure presents a significant challenge. In a recent survey, 93% of Addison Lee EV drivers have found rapid charging through the public network to be a difficult process and over a third said it can take over 30 minutes to locate a rapid charger.
"Without urgent intervention by both the UK Government and the Mayor of London to increase the number of charge points and make them more accessible, they will not achieve their ambitious net zero targets."
Tanya Sinclair, Policy Director – UK & Ireland at ChargePoint: "We are pleased that the automotive industry is now committed to fully electrifying new cars and vans in line with the government's targets. We agree that to support EV growth in the UK, charging services should always offer the driver a seamless reliable experience with charging infrastructure installed ahead of demand. This is what companies like ChargePoint are already doing – delivering best-in-class charging solutions in an open, competitive market for partners offering charging in workplaces, depots, fleets and destinations.
We also agree with the SMMT plan that the government needs to make good its commitments to raise and standardise the driver's experience of charging. However the best way to do this is through the government mandating roaming and enforcing minimum uptime for charging stations, rather than the SMMT's suggestion to push responsibility for EV charging onto cash-strapped local councils. Governments and councils should be enabling and facilitating EV charging infrastructure, not owning, operating and regulating it. In order to make meaningful progress on EV charging, private sector leadership and innovation is key, as well as ensuring that fast-growing private sector charging companies are attractive investments."
Oliver Shaw, CEO at Kalibrate: "With the government aiming to reach net-zero emissions by 2050, the disparity between electric vehicle (EV) registrations and EV chargers isn't promising. Though charging points are on the rise, it is simply not enough. The pace needs to rapidly pick-up. Firstly, to keep up with demand, and secondly, to convince traditional vehicle owners to make the EV switch. This includes addressing the unequal distribution of charging points between the North and the South. For instance, the worst city in the UK is Stockport, which only has approximately 35 charging points for 13,147 registered EVs. What's more, London holds 32.3% of all charging points in the UK, whereas the North West only has 6.3% and the North East, 6.7% (ZapMap).
"These obstacles could be debilitating to the EV industry and must be addressed as soon as possible. In fact, Kalibrate's own research found that nearly half (48%) of UK EV drivers remain worried about running out of charge, and it's no wonder EV drivers are expressing uncertainty due to this lack of convenient charging points. Addressing this means having an effective data approach to identify the various EV users and what locations require further investment in charging. Ultimately, they must be strategically placed across to respond to levels of charger demand right now, and into the future as EV adoption continues to gather pace."
Chris Pateman-Jones, CEO of Connected Kerb said: "Regional disparities in public electric vehicle charging rollouts must not prevent drivers from realising the huge benefits of driving electric. Only by overcoming these disparities can we achieve a fair and equal transition to cleaner transport. We welcome the SMMT's call for new standards that would guarantee social equity in provision of charge points and ensure no one is left behind in the UK's electric vehicle transition."
"Councils and developers can often be put off installing electric vehicle charge points due to the perceived high up-front costs of installation and a lack of transparency over network performance and driver tariffs. Any new regulator should seek to cut through this confusion and encourage the use of large scale, long term contracts that measure operator performance, not only against economic, but also social and environmental targets. For the UK to deliver a full societal transition to EV, access to convenient, reliable and affordable charging infrastructure must be removed as a barrier to adoption, no matter where in the UK you happen to live."
---
1 Charging point connectors in 2011: 1,537. Charging point connectors by end of 2021: 48,770
2 SMMT analysis of data from International Energy Agency (2021), Global EV Outlook 2021, available at https://www.iea.org/reports/global-ev-outlook-2021. 
3 SMMT analysis of data from Department for Transport (2022), Electric vehicle charging device statistics: January, available at https://www.gov.uk/government/statistics/electric-vehicle-charging-device-statistics-january-2022; and SMMT registration and parc data.
4 SMMT analysis of data from Department for Transport (2022), Electric vehicle charging device statistics: January, available at https://www.gov.uk/government/statistics/electric-vehicle-charging-device-statistics-january-2022; and SMMT registration and parc data.
5 SMMT (2021), New car market and parc outlook to 2035, by powertrain, available at https://www.smmt.co.uk/2021/06/smmt-new-car-market-and-parc-outlook-to-2035-by-powertrain/.