The European Parliament's transport committee has voted to approve a new package of mandatory minimum vehicle safety standards, bringing its implementation a step closer.
In May 2018, the European Commission announced a 'significant proposal' to upgrade mandatory vehicle safety standards for all new cars, vans, lorries and buses sold in the EU.
The proposals require every new vehicle to satisfy 11 new safety rulings, mandating technologies such as AEB, ISA, built in breathalysers, lane-keeping assist and drowsiness detection.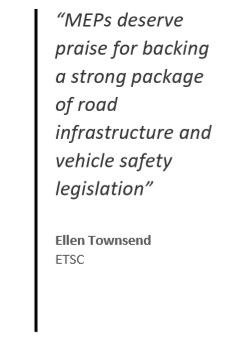 More advanced safety measures, which will be required for passenger cars and light commercial cars, include event data recorders and enlarged head impact protection zones capable of mitigating injuries to vulnerable road users.
In November 2018, the package of measures was approved by the European Council.
Now, the measures have been backed by the European Parliament's Transport Committee – with MEPs saying the new rules should be 'fast-tracked'.
In addition MEPs requested that eCall, an automated emergency calling system fitted to all new cars and vans in the EU, should also be fitted to lorries and buses in the future.
If introduced in full, it is estimated that the measures could save 25,000 lives across the EU over the next 16 years.
The plans now need to be approved by the European Parliament's internal market committee.
Ellen Townsend, policy director of the European Transport Safety Council, said: "MEPs deserve praise for backing a strong package of road infrastructure and vehicle safety legislation.
"We hope the final package that ends up being agreed will make a significant contribution to reducing the 500 deaths on European roads each week, and that pressure to weaken the rules is strongly resisted during the upcoming negotiations."