Throughout 2021 the shortage of HGV drivers and its significant impact on society has made headlines from the sublime to the ridiculous. Whether the panic petrol buyers causing pumps to run dry, that McDonald's was running out of milkshakes, KFC and Nando's closing their doors due to lack of stock or reports of empty shelves in our supermarkets in time for Christmas, suddenly an industry problem that has been brewing for some time became very real for members of the general public.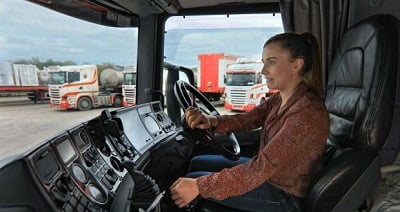 We're facing a shortage of more than 100,000 haulage and fleet drivers that have either retired early due to IR35 reform or left the country as the result of Britain's departure from the EU. The COVID-19 pandemic, meanwhile, has meant the average time it takes to train up new HGV drivers has increased from 1-2 weeks to more than eight weeks for a significant portion of the industry, compounding the problem further. Beyond this, it's been a time when drivers have been able to highlight their dissatisfaction with a job that offers few of the benefits that workers in other sectors might enjoy and, instead, can often be a difficult and lonely gig.
Haulage and fleet operators are being presented with an unprecedented challenge. While emergency visas for foreign workers and calling in the army might be able to offer some short-term relief, now is really the time to renew a focus on driver recruitment, job satisfaction and retention strategies.
Creating company culture
Building employee engagement and a positive company culture has long been the foundation of successful modern businesses, encouraging greater loyalty, retention and wellbeing, but this appears to have been lost within the haulage and logistics industry.
We can point to key challenges such as dealing with a workforce that is dispersed by its very nature, meaning that drivers are miles apart, working long hours, alone and with limited opportunities to connect properly with their employer and colleagues. But it is not the only industry with a deskless workforce, and thanks to technology we are starting to see a move towards employee engagement programmes geared towards showing staff that just because they are out of sight, they are not also out of mind.
Why is driver retention so difficult? 
There are an estimated 2.7 billion deskless workers worldwide, and their employers all share a similar challenge. Namely, how to keep their teams connected, engaged and under the same cultural umbrella when they're constantly on the move. This is arguably felt most acutely by haulage and fleet operators, whose drivers could be thousands of miles away from the nearest depot at any given time.
HGV driving is a relatively solitary existence, making it seemingly difficult for operators to engage their drivers in a meaningful way or involve them in company culture. This has a direct impact on things like onboarding and retention, particularly during pressure periods where demands on drivers are high.
According to the Road Haulage Association, more than 40% of drivers that have left the profession have moved to completely different industries. It's also worth mentioning that the average age of an HGV driver in the UK is currently 55, indicating that operators aren't doing enough to attract and retain younger workers. So, what can be done?
Engaging and retaining drivers with technology
Creating a positive, welcoming and engaging "workplace" culture might seem impossible in an industry where employees are rarely in the same place at the same time, but with the right technology in play, it's now a perfectly achievable goal.
Perhaps it is time to explore some of the solutions that could benefit the haulage industry in the same way as other deskless workforces, leveraging mobile platforms to provide much needed connections among employees and a better sense of company culture.
We're living in an age of being connected 24/7 via our mobile phones – not just to family and friends, but to the news, our entertainment, our life admin, social lives, health trackers, bank accounts and for everything else there's Google. Our phones are with us at all times and offer a personalised and multimedia experiences that few could live without.
It's for these reasons that employers are increasingly seeing mobile platforms as the most convenient, accessible and effective way of connecting with their workforces, not least for those whose jobs require that they are dispersed, deskless and must work autonomously.
For the HGV driver that most likely does not access an inbox on a regular basis, if at all, and whose interactions with their employer or colleagues are limited to passing encounters at the depot or uninviting truck stops, through paperwork or perhaps updates over SMS and radio at best, an opportunity is being missed to better connect with them when the answer is probably already in the palm of their hand.
Mobile communications over paperwork or e-mail
A dedicated mobile platform offers the chance to consolidate lots of different channels into one that workers can access at their own convenience. For the employer, importantly, it's a means of enhancing the way in which information is delivered so that it can have a much more positive impact.
Through mobile, employee communications can be delivered to instil positive company values across a range of different formats, from videos to news feeds to instant messaging, chat forums, training materials, photos, podcasts, push notifications – anything that can contribute to varied and engaging content. And it should go beyond functional, day-to-day information to provide more social and cultural touchpoints that can inject much more personality. In this way, employees will actually want to keep up to date with the communications rather than view it as just more work-related content.
This is the approach that is proving successful in other industries. It may sound like simple stuff, but it's also the simple things – like being kept informed and up to date and having a forum where you're treated like your voice matters – that go a long way in building higher quality relationships between employers, employees and colleagues.
The value of creating a more engaged workforce cannot be underestimated, and now with the technology available to better connect us all there is no excuse for not taking these steps towards building the type of company culture that will promote better job satisfaction for the road ahead.
---
Author: Greig Johnston is CEO of employee engagement specialist Engage4, a brand of digital transformation experts Vidatec.