Citroen is now offering a full range of 100% electric LCVs, including its new e-Berlingo van, mid-sized e-Dispatch and large e-Relay electric models.
The e-Dispatch was the first to become available, rolling off production lines in 2020, followed by the e-Relay that arrived in UK showrooms in August.
Both models were joined by its new e-Berlingo van electric, which opened for orders at the end of August.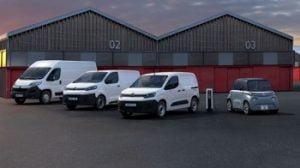 Citroen said an electric quadricycle, the Ami Cargo Electric, will become available in 2022 as a last-mile solution in urban areas and offering a payload of up to 140kg.
The mid-sized e-Dispatch comes with either a 50kWh or 75kWh battery and offers up to 205 miles from a single charge.
Its largest van, the e-Relay gives customers the choice of either a 37kWh battery connected to a 120hp (90kW) electric motor available exclusively in the L2 Panel Van, or a 70kWh battery unit connected to the same 120hp (90kW) motor for all other body types, with a range of up to 139 miles under WLTP testing for L3 and L4 variants.
The e-Berlingo comes with a 50kWh battery and a 100kw motor and a range of up to 171 miles.
Eurig Druce, Citroen UK MD, said: "At Citroen we believe in democratising electric vehicle ownership and by offering a full range of commercial vehicles in a variety of sizes we are delivering on that promise with maximum choice for the consumer."
---
Author: Chris Tindall, MotorTransport