Vauxhall claims the revised architecture liberates more cabin space for passengers, and this is felt most obviously in the rear. However, the company's own statistics confirm that boot space has shrunk slightly as a result, down 40 litres to a 490-litre capacity. However, it's better-shaped than the old car.
The Insignia Grand Sport's nose is dominated by a new interpretation of the Vauxhall grille, while high-end models feature the brand's LED Matrix headlamps, featuring 32 lighting elements compared with the Astra's 16. Not only are they brighter, but they are even more precise in the way they shut down sections of light to avoid dazzling oncoming drivers.
Despite the bodywork creases and chamfered corners, it cleaves the air with impressive ease; Vauxhall quotes a drag coefficient of 0.26 (the same as the 1989 Calibra!), which should yield fuel efficiency and low CO2 emissions benefits. The new car is also up to 175kg lighter, model-on-model than the outgoing Insignia.
Engine line-up largely carried over
There are six engines in total, including three petrol and three diesels. All of them are turbocharged and only the 1.5-litre petrol is a new unit, the rest are carried over from the previous Insignia.
This means that the mechanicals of this car are largely tried and tested – and revisions mean that economy and CO2 emissions are improved over the old Insignia too.
Vauxhall reckons the 1.5-litre petrol and 1.6-litre diesels will sell the best, and there are two power outputs for each unit to help tailor your Insignia to your exact needs.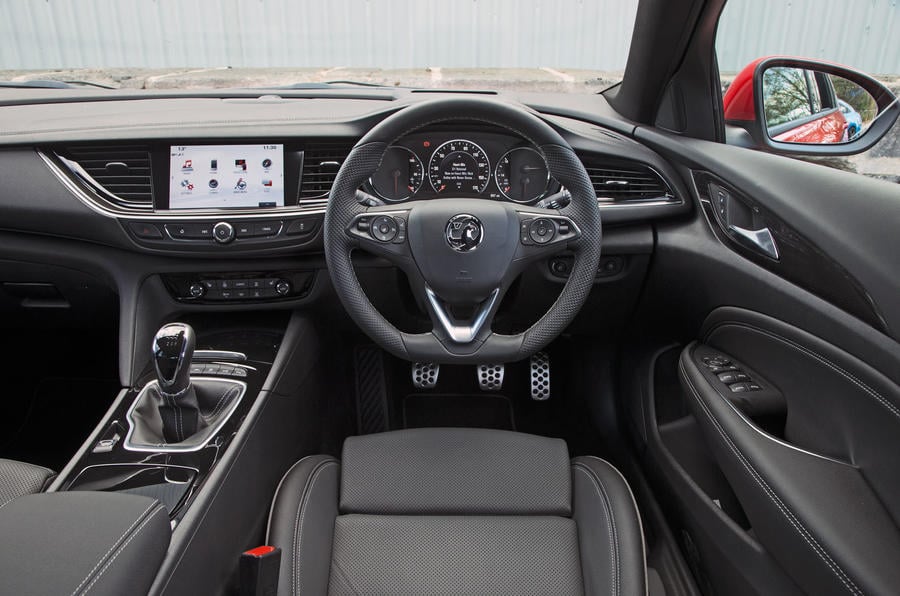 Enhanced on-board technology
Unsurprisingly, the latest Insignia features a raft of electronic aids to make the driving experience safer: expect adaptive cruise control, lane-departure assist, rear cross-traffic alert and a head-up display (HUD) to be optionally available where they're not standard features.
Angled towards the driver, the Astra-esque dashboard is dominated by a large multimedia touchscreen in an attempt to reduce the button count, although the steering wheel is still likely to be laden with switchgear.
Smartphone integration is made easy with Android Auto and Apple CarPlay, which is standard on all models, while the tech-fest continues with Vauxhall's OnStar virtual concierge service and an on-board Wi-Fi hotspot for up to seven devices likely to be standard across the bulk of the range.
A good, solid verdict for a good solid car. The Vauxhall Insignia Grand Sport is decent to drive, excellent on long journeys, is well-made, and has a nice, usable interior that feels like it will withstand years of hard use without any troubles. So, why doesn't it score better?
The Insignia Grand Sport is a typical modern Vauxhall. It's very good at what it does, but lacking in that last bit of desirability – sexiness – that you'll find in non-premium rivals, such as the Volkswagen Passat and Skoda Superb.
Click here to find out more about LeasePlan's Vauxhall Insignia Grand Sport range