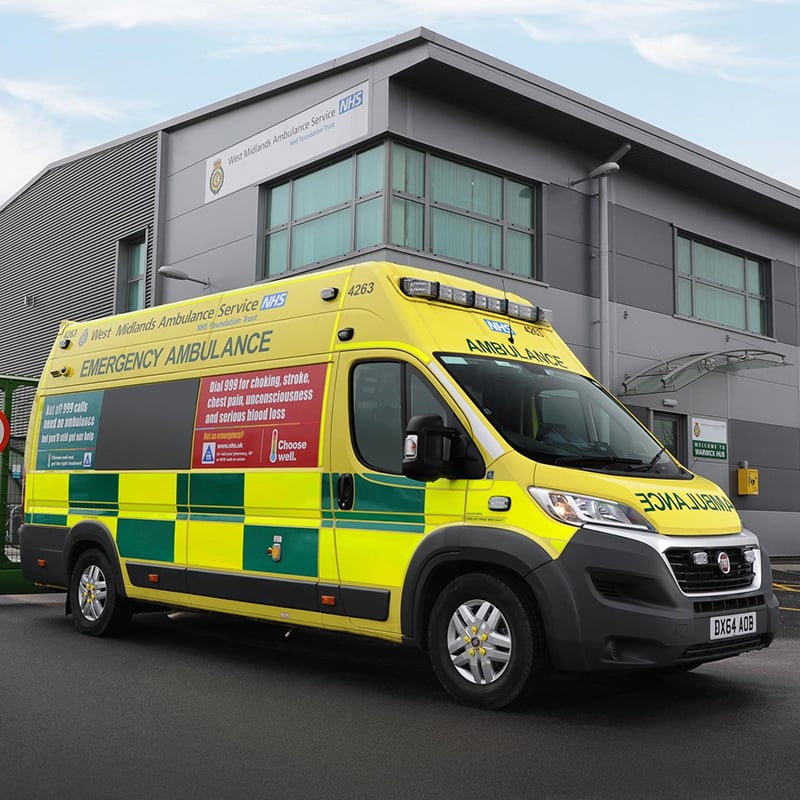 Looking good
West Midlands Ambulance Service NHS Trust orders 101 FIAT Ducato Maxi vans on which to base its new fleet of front-line ambulances
West Midlands Ambulance Service (WMAS) has taken delivery of the first batch of its new front-line ambulances, all of which are built around the reliable and robust FIAT Ducato Maxi van.
In total West Midlands Ambulance Service NHS Foundation Trust has ordered 101 FIAT Ducato vehicles for conversion into front-line ambulances, as well as an additional two vehicles for driver-training unit conversions.
The extensive conversion from van to ambulance is completed by O&H Vehicle Conversions, Goole, and takes approximately 400 man hours to complete. A special rear air suspension is fitted and the interior is kitted out with purpose-built cabinetry to accommodate the specialist, life-saving medical equipment, with approximately one mile of electrical wiring added to the vehicle to provide power to extensive range of crucial ancillary items.
West Midlands Ambulance Service NHS Foundation Trust has to consider many criteria when selecting a vehicle on which to base its ambulance fleet and chose the FIAT Ducato for a number of reasons, not least its low floor, front wheel drive configuration and 4,250kg GVW certification. In addition, the FIAT Ducato delivers strong comparative fuel economy with the added bonus of extensive dealer coverage in the West Midlands area of operation.
Reliability is also a key factor, with the ambulance service's 360-strong fleet of ambulances expected to cover a total of 15,000,000 miles in 2015. WMAS has been operating the FIAT Ducato in front line ambulance operation for a number of years and by the time the last of the 101 new units are delivered, two thirds of its entire ambulance fleet (240 of 360 vehicles) will be Fiat Ducato based.
According to Tony Page, General Manager Fleet Services with West Midlands Ambulance Service NHS Foundation Trust: "The Ducato provides the Trust with platform to build a front line ambulance that provides a good working space for our clinical colleagues to deliver a high level of patient care, the 3.0 diesel engine is more than capable of getting the vehicle and crew to serious incidents in a timely manner, good dealer support and fuel economy are also an important aspect of the FIAT Ducato's offering. Early signs with the first 40 units of the latest model Ducato in operation are they are step change improvement for us, feedback from our crews so far has been very positive."