Vauxhall's all-electric Vivaro-e has been named 'Electric Van of the Year' by Auto Express at its New Car Awards 2021 ceremony. The award marks another win for the Vivaro-e this year, as the 100% electric van continues to impress both industry experts and customers.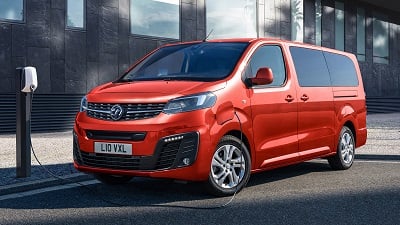 Praised for its impressive 205 mile range (WLTP) from a single charge as well as its modularity and practicality, the Vivaro-e's win comes as no surprise following on from its stream of award wins recently. It was named 'Van of the Year' and 'EV Van of the Year' by Van Fleet World, as well as What Car?'s Van of the Year. The Vivaro-e also won the 'Best Electrified Commercial Vehicle' category at the Driving Electric awards, and won the highly coveted International Van of the Year title last year.
Steve Fowler, Editor-in-Chief, Auto Express, said: "Electrification is big news in the van market, which is why we've created this new category. The Vauxhall Vivaro-e is a worthy first winner, because it helps to banish concerns about range anxiety. Power comes from a 134PS electric motor, fed by a choice of two batteries, offering up to 195 miles of emissions-free motoring. In addition, the Vivaro-e is more like a car to drive than a commercial vehicle and features the latest safety kit."
With a maximum load volume of 6.6m3 and a load capacity of 1,226kg, the Vivaro-e supports up to 100kW rapid charging, with an 80% charge taking just 45 minutes due to its impressive 75kWh battery – making it ideal for businesses which cover high mileages daily. With zero tailpipe emissions, the Vivaro-e is also exempt from current ultra-low emissions and congestion charge fees, helping reduce overheads alongside lower running costs.
Paul Willcox, Managing Director, Vauxhall, said: "We're incredibly honoured with the Vivaro-e's achievements this year, and this win at the Auto Express New Car Awards is no exception.  Whilst proving to be a resounding success with the experts, we are also delighted that the Vivaro-e is leading the UK electric LCV sales charts according to the latest figures from the SMMT. Vauxhall will have an all-electric version of every van in the range within the next few months and we're proud to be at the forefront of moving van users to affordable and sustainable mobility."
Vauxhall is now one of the few UK LCV providers able to offer fleets an electric variant across its full line-up, following the announcement of the new Movano-e earlier in May.
Auto Express' New Car Awards celebrate the best models available to UK drivers this year, decided through rigorous testing, assessment, and insightful reviews from its expert panel of judges.