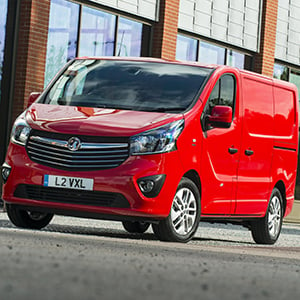 Vauxhall Commercial Vehicles made strong gains in the CV market showing improved sales across its entire van range from January to September this year, making it the number one manufacturer for retail customers.
The van market itself enjoyed strong growth in September with 58,744 light commercial vehicles registered, up 19.5 per cent versus the same month last year.
Vauxhall registered 31,038 LCVs in the nine months to September corresponding to a 10.9 per cent market share and a 37.9 per cent increase on the same period last year.  That was more than double the rate of increase in the market as a whole, which is up 17.4 per cent with 284,161 units registered.  Vauxhall claimed top spot in the retail van charts with 11,425 registrations and an impressive 17.1 per cent market share.
The popular Vivaro, built at Vauxhall's Luton plant, is the stand-out performer, accounting for an 11.01 per cent share of the retail van market. Overall, 20,231 Vivaro units have been sold year-to-date (compared to 13,411 for the same period last year), an increase of 50.8 per cent. This means there have been more Vivaros sold in the first nine months of 2015 than there were in the whole of 2014.
The Movano also exceeded all expectations with total registrations year-to-date amounting to 3,857, a 43.5 per cent increase over the same period in 2014. Elsewhere in the range, Corsavan increased sales by 12.6 per cent and Combo registrations rose by 7.1 per cent for the first nine months of the year.
Richard Collier, Vauxhall's National Commercial Vehicle & B2B Sales Manager, commented: "2015 so far has been an outstanding year for Vauxhall Commercial Vehicles, and we are very proud of the impact our vans, particularly Vivaro, have made on the marketplace. With the Vivaro accounting for nearly 20 per cent of all retail vans sold in 2015, we're confident the positivity surrounding the Brit-built van will continue.
"Across the range, it's a great story for us too, with Movano uptake incredibly strong – it's a van popular for conversions – while Corsavan and Combo hold their own in their respective segments, with sales growing year-on-year."