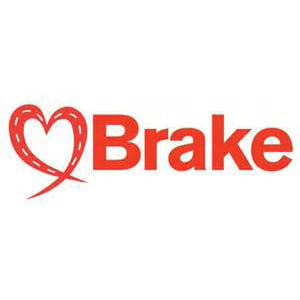 Bruce Crawford, MSP for Stirling, has been given the first ever Scottish Road Safety Parliamentarian Award by the charity Brake and Digby Brown Solicitors. The award is the first in a series that will recognise the contribution of MSPs to improving road safety in their constituencies and across Scotland. Bruce Crawford's award recognises his work to introduce a 20mph speed limit in the Stirling suburb of Cornton.
The Stirling MSP took the initiative by writing to 472 households in Cornton to gauge support for a permanent, area wide 20mph speed limit. More than a quarter of the residents he contacted responded, with 98% of them in favour of the move. In response, Stirling Council is now drawing up draft plans to introduce the 20mph limit, which it expects to implement within the current financial year.
20mph speed limits are becoming more and more widely recognised as one of the best ways to protect people on foot and bike, helping adults and children to walk and cycle in their communities, for their health and enjoyment, and for cheap and sustainable travel, without being put in danger. Brake campaigns for 20mph to be the norm across all towns, cities and villages through its GO 20 campaign. Find out more.
The response from Cornton is another demonstration of the immense support and demand for more widespread 20mph limits in communities, across Scotland and the UK. A survey by Brake in April 2014 found eight in 10 people (78%) in the UK think 20mph should be the norm around schools, on residential streets, and in village, town and city centres [1]. An estimated 14 million people in the UK now live in areas that have, or are in the process of implementing, 20mph limits [2].
Bruce Crawford's work on 20mph limits in Stirling, and the positive community response, show it's not just big iconic cities like Edinburgh where people want to GO 20. 20mph limits are in demand across Scotland, in communities large and small. That's why Brake calls on the Scottish Government to lower the default urban speed limit to 20mph across the nation, as it also calls on Westminster to do across the UK.
The Stirling MSP has also been active on road safety issues in other areas of his constituency in the past, including campaigning alongside the community in Doune to stop the speed limit on the A84 being increased in 2013, and working with Callander Primary School to improve safety for children in the area.
Brake is part of the GO 20 coalition campaign for a 20mph default urban speed limit, to cut road casualties and empower more people to walk and cycle in safety. Tweet us: @Brakecharity, #GO20
Ed Morrow, campaigns officer, Brake, the road safety charity, said: "MSPs have a hugely important role to play in making roads safer for their constituent, in their communities, and across Scotland. That's why we're delighted to start recognising MSPs for the work they do to champion and improve road safety, and encourage more of them to help make Scotland a trailblazer in UK road safety.
"Bruce Crawford is a worthy first winner of this award, by recognising the demand for 20mph speed limits to make streets safer in his constituency and helping to make them a reality. More and more, people are realising that 30mph isn't fit for purpose in our communities: lower speeds are essential to free people from the fear and threat of fast traffic that often stops them exercising their right to healthy, cheap and sustainable travel. Hopefully, the Cornton scheme will be just the start, and we will see more 20mph limits rolled out across Stirling in the not too distant future."
Accepting his award, Bruce Crawford, MSP for Stirling, said:"I am delighted to receive a Scottish Road Safety Parliamentarian Award for the work I have undertaken in my constituency in trying to improve community road safety.
"Road safety is something that I have spent much of my time as an MSP championing, working with communities across the Stirling constituency. I have been involved in campaigns in rural areas such as Balquhidder, Buchlyvie, Callander, Doune, Killin and Strathyre, calling for an improvement in road safety with speed reduction, better signage and zebra crossings.
"When I surveyed my constituents in Cornton 98% of those who responded were in favour of introducing a 20mph limit around the school, something which Stirling Council could not ignore.
"It is fabulous to receive this award, however the credit should go to the active members of the respective communities who have worked tirelessly to raise awareness of road safety issues. I will continue to do all I can to work with my constituents to make our roads safer."
Fraser Simpson, partner at Digby Brown Solicitors, added:"As personal injury lawyers, we see first-hand the devastating effect road traffic crashes have on victims and their families. All of us who use the roads can help make them safer and this type of leadership on local road safety issues makes an important contribution to achieving that."