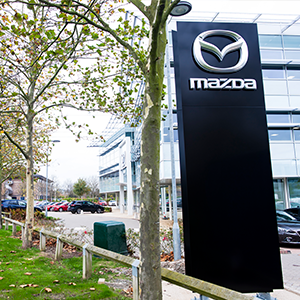 Last April, as part of its continued focus on delivering first-class customer service, Mazda UK opened its new Customer Relations Centre. Housed within their headquarters building in Kent, the 20-strong team deal with all types of contact with Mazda owners and potential purchasers.
"Our aim is to deliver a personal service that ensures that everyone who deals with Mazda feels connected and positively surprised throughout regardless of their reason for contacting us. Today's customer expects problem resolution to be fast, effective and easy, plus they want to interact via the channel of their choosing", commented Andrew Beale, Mazda UK Customer Service Operations Manager.
Adding, "it was our desire to deliver this level of first-class, personal and bespoke service that saw us move away from the traditional outsourced customer contact centre approach and make a significant investment in our own team of passionate Mazda employees here at our head office in Kent."
"Everyone involved knew it would be a huge task but I'm proud to say that one year in we've seen superb results. Under the previous outsourced structure the average amount of calls resolved first-time was 35 per cent, now that has almost doubled to 68 per cent, while we now open emails within a day on average rather than four days with the old set up. On top of that, the volume of ongoing cases has fallen from an average of 156 to 101, plus arguably most impressive of all, the typical duration of a customer case has tumbled from 35 to just three days."
Overall Mazda UK's CRC centre enjoys around 10,000 points of contact a month, which can take the form of phone calls, emails or correspondence on social media. Around 5,000 of those are phone calls and around half are from Mazda owners with the majority of the remainder being Mazda dealers making arrangements on a customer's behalf.
Calls about a wide range of issues include requests for information on still-to-be-launched new cars, questions on practical issues and in some cases a complaint. It's here that Mazda's fresh approach to customer care shines through. Every member of the CRC team has the power to take decisions on how best to proceed without having to escalate a case any further, which ensures high levels of single call resolution.
Andrew Beale commented, "We have been successful because we empower our staff and ask them for suggestions on improving processes. Another key advantage of Mazda's in-house set-up is that the CRC relationship managers sit right next to the Mazda UK technical team, which allows for swift troubleshooting of mechanical questions that might have left a dealer's technicians flummoxed or rapid answers to obscure requests like sourcing components for privately imported Japanese-market Mazdas for example."
In an age where an unrivalled ownership experience can give crucial advantages in a competitive market, Mazda's focus on the consumer is ongoing with the next step being a live web chat, which will be introduced before the end of the year. By 2018 Mazda aims to be the third highest ranked non-premium car maker for customer satisfaction, with a vision of being world leading by 2021.
This drive to make things better, evolve and improve is at the heart of Mazda's 'Challenger Spirit' – an ethos that was founded in Mazda's home city of Hiroshima. "It's been a heck of a year but our drive for happier customers has only just begun", commented Andrew Beale.