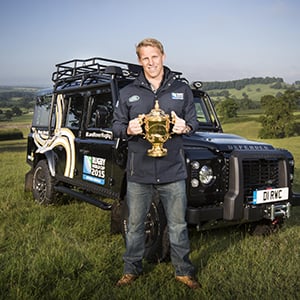 In the build-up to Rugby World Cup 2015, Land Rover helped to bring a taste of the highly anticipated global Tournament to Devon on Thursday 9 July.
As part of a 100 day tour of the UK and Ireland, organised by England Rugby 2015, local Land Rover customers and media were invited to Land Rover Experience West Country in Honiton to get a closer look at the sought-after Webb Ellis Cup and the unique Trophy Tour Defender.
Land Rover ambassador and Rugby World Cup 2003 winner, Lewis Moody, was also in attendance as he looks forward to seeing his home nation in action at Twickenham when the Tournament kicks-off in September. Speaking about England's chances, Moody said; "England definitely have a chance to win the World Cup, but it will be a big ask. Having Australia and Wales in your pool isn't ideal so it's important to play well and win the warm-up games so that they go into the tournament with confidence. The opportunity that these guys have is huge and I hope they take it because the nation will get behind them with every ounce of their being."
The visit to the West Country marks the quarter stage of the 100 day tour, which has already seen the Webb Ellis Cup being transported through Scotland, Northern Ireland, the Republic of Ireland, and Wales, in the custom-built Land Rover Defender. The Defender took nearly 6,000 hours to design and was built at Land Rover's Special Vehicle Operations base in the West Midlands.  So far on its Tour, the vehicle and the famous Trophy have already visited Scotland, Ireland and Wales, travelling over 2,500 miles to give thousands of people of all ages the chance to see the most coveted prize in Rugby.
The Tour will continue to excite fans in the run-up to the Tournament, incorporating visits to over 300 events including rugby clubs, schools, community festivals and iconic landmarks. Travelling approximately 9,000 miles during the Tour, the Defender and Webb Ellis Cup will endeavour to inspire the nation and leave a lasting legacy of Rugby World Cup 2015.
Moody has also been involved with Land Rover's 'We Deal In Real' Rugby World Cup 2015 campaign, which celebrates grassroots rugby in the UK and around the world. As part of Land Rover's activity the Rugby World Cup 2003 winner has been helping to give youngsters aged between seven and 13-years-old the once in a lifetime opportunity of being one of 96 Rugby World Cup 2015 mascots.
"We launched the mascot competition a while ago now and it has been absolutely brilliant. We've even had some of the current England players getting involved to congratulate the winners, it's been awesome.
"The best thing about the Trophy Tour is, that it's engaging the next generation. Sometimes the World Cup can seem a bit inaccessible but the fact that the Trophy is going around to as many grassroots clubs as possible and that the mascot competition is getting so many youngsters involved in the Tournament is fantastic. It's like the World Cup is coming to you and I love that."