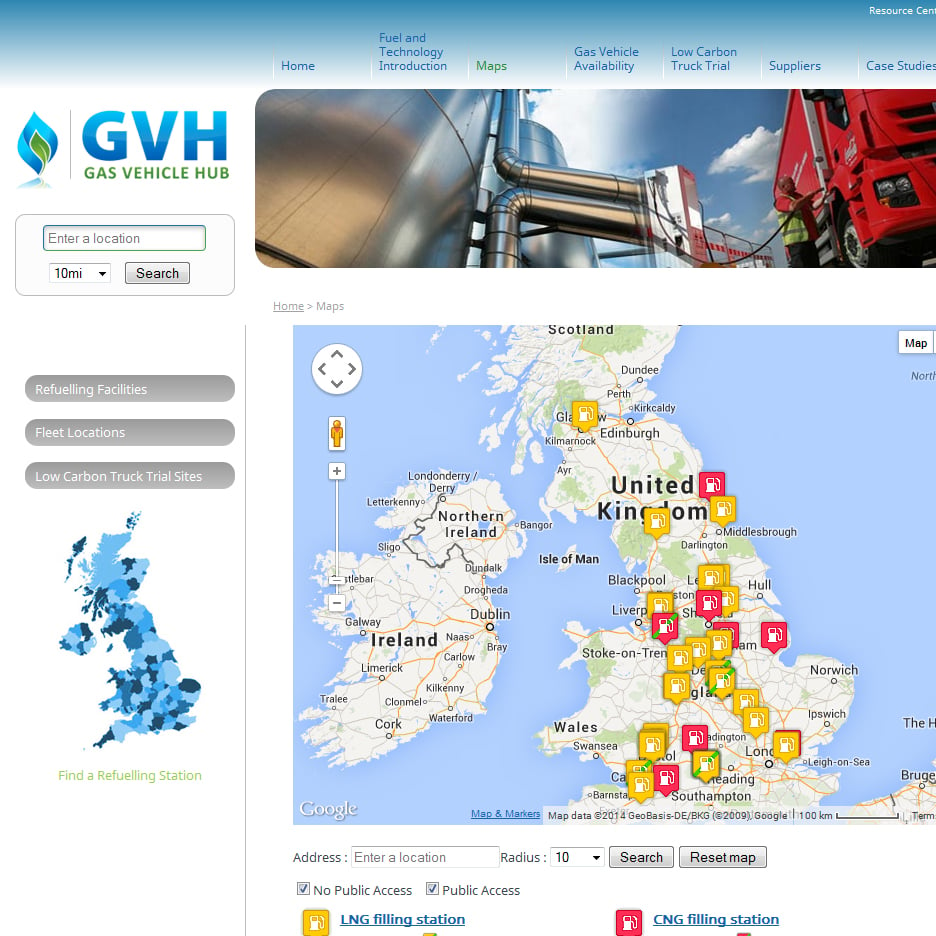 The GVH Map
New Gas Vehicle Hub provides searchable maps helping fleet operators find natural gas and biomethane refuelling stations across the UK
The UK is seeing a surge in the uptake of low carbon gas-powered trucks, however a key barrier to further uptake has been access to reliable information on gas refuelling stations.
To combat this, Cenex, with funding from the Knowledge Transfer Network (KTN), has developed an online tool to provide easy access to accurate information on refuelling locations. This information is embedded within a website that also highlights links to gas powered fleets to encourage sharing of best practice, together with case studies and information on gas vehicles available in the UK.
The website also provides information and updates on the UK Government's ongoing Low Carbon Truck and Infrastructure demonstration trial, which is set to deploy over 350 gas powered trucks and 25 new or upgraded gas refuelling stations before the end of next year.
Commenting on the mapping service, Tessa Darley, Head of Transport at KTN said: "Not only does the information in the Gas Vehicle Hub provide a key tool to enable logistics operators to plan journeys in advance, but the mobile-friendly site provides flexibility of access and peace of mind to drivers on the road."
Philip Spittle, Head of Fleet Compliance at Eddie Stobart adds, "Pulling together refuelling station information into one easily accessible place provides a vital resource for transport operators, allowing us to track new gas refuelling stations thereby enabling us to expand the areas where we can operate dual-fuel gas vehicles."
To find out about existing UK gas refuelling sites visit www.gasvehiclehub.org.