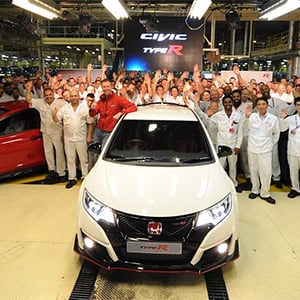 Today, in his inaugural speech as Honda Motor Company CEO, Takahiro Hachigo announced that the new Civic Type R, built in Britain, will be destined for customers in Japan.
The first units to be shipped from Honda of the UK Manufacturing (HUM) are due to arrive in Japanese showrooms from autumn this year.
This news is a further boost for the 3,000 associates working at the UK-based plant, as it follows the recent announcement of new investment at the plant of £200 million, with HUM becoming the global production hub for the next generation Civic five door model.
Commenting on the news, Philip Ross, Senior Vice President for Honda Motor Europe, stated, "We're delighted that the European Civic Type R will be sold to customers in Honda's home country of Japan. Customers are really excited about this car and we're developing a significant order bank here in Europe. Exporting the car to Japan will only serve to increase demand further, which is great news!"
The first Civic Type R rolled off the production line at HUM only last week and speaking at the start of mass production, HUM's Managing Director, Mr Takizawa commented, "The new Civic Type R is a significant model for Honda, representing our racing spirit and demonstrating our commitment to innovation and passion. Here at HUM, we are extremely proud to be the only manufacturer of the Civic Type R in the world. Our high standards have earned us this privilege and this is testament to the continued commitment of our associates."