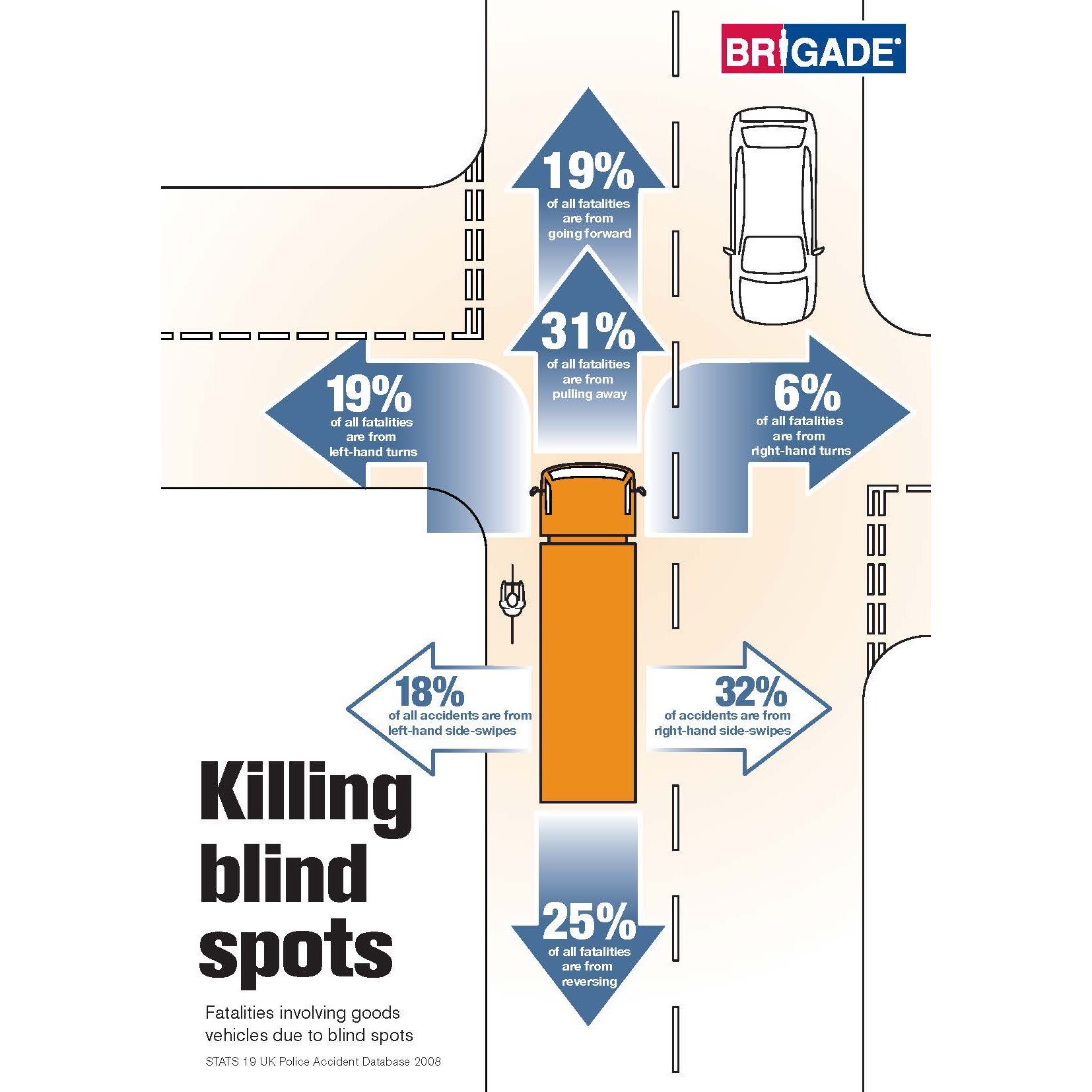 Blind spots
Brigade Electronics will be explaining the issues of multiple blind spots around a vehicle with a more interactive stand at the CV show this year.
Brigade have printed a 2D graphic of a truck on the floor of their stand highlighting all the blind spots around a vehicle and fatality statistics associated with them.
The statistics from the Police Accident Database tell a very interesting story – for instance we associate the blind spot with the left hand side of a vehicle, especially with huge media attention on collisions with cyclists and HGVs, but whilst 18% of overall accidents are left hand-hand side swipes, a whopping 32% are right hand. This shows that we can no longer consider blind spots in isolation, blind spot devices are essential 360 degrees around the vehicle.
Brigade's Backeye 360 systems provide the driver with a real time, 360 degree 'bird's-eye' view of the vehicle within a single image.
Designed to assist low speed manoeuvrability, Backeye 360 saves the driver having to process information from several mirrors or monitors in quick succession, making it easier to spot and asses possible hazards.
Ultra wide-angle cameras mounted on the front, sides and rear of the vehicle capture the surrounding areas of the vehicle including all blind spots. Simultaneous digital images from these cameras are then processed to eliminate fisheye camera distortion and 'video-stitched' resulting in a 360® single image, delivering a clear, real time picture on the driver's monitor.
Emily Hardy continues: "31% of fatalities occur when the vehicle is moving away. That means the vehicle is going from a stationary position, moving forwards and at a low speed. That all sounds like a low risk manoeuvre but is actually the most dangerous."
Also on Brigade's stand will be a full suite of products which meet various vehicle specifications aimed at reducing cyclist and HGV fatalities including CLOCS, FORS, Crossrail and the MPA. Members of the Brigade team will be on hand to help customers understand what product they need to fit depending on their vehicle type.
Visit Brigade at stand 4E90.