Toll roads are a real pain aren't they? Not only do we have to deal with traffic and all the other nuisances of our daily commutes, but the really unfortunate ones among us have to pay to get to where they want to go and pay again to get home, particularly annoying if it's to be done every day to get to work. How much do you end up having to pay just to get there and back? That's something we've been thinking about here at Leasing Options, so we've taken a look at the books to see how much the country's commuters are paying daily/weekly/monthly/yearly at some of the most expensive tolls and what they could have been buying instead.

On Average How Much Are Drivers Paying At Tolls?
We looked at eight of the most expensive tolls around the country and on average you need to pay £2.43 to pass through. If you double that for the return leg, that means that a single journey can cost one driver £4.86 per trip. If a driver has to make this journey every day of the week for work (Mon-Fri) that increases to around £24.30 a week, £106.92 a month and a whopping £1,283.04 per year. That's 3.5% of the average salary in the UK. So, what could you have bought instead?
£1,283.04 is a lot of money. In fact, it's almost the same as what the average UK household spends per year on their gas and electricity bills (£1,289), according to energy provider OVO. For the same price we've calculated that you could also have charged an electric vehicle 150 times and fuelled 17 full tanks of petrol. But let's break things down to a few specific tolls.
Considered the only major toll in Great Britain, the M6 Toll has two payment plazas, Great Wyrley Toll Plaza for northbound and Weeford Toll Plaza for southbound. The cost is £6.90 for a car which is by far the most expensive toll in the country. For those travelling through this toll on a regular basis, they rack up a steep bill, one that could afford many other luxuries. For example, just one trip through and back on the M6 toll is more than you'd spend to charge an electric car at home. You'd also be able to afford a premium month's membership to Netflix and if you did it Monday-Friday, by the weekend you've already spent what the average person spends on food for a week. In fact the toll is so expensive that if you had to use this toll every day for work, by the end of the year you'd have spent what over two households would have paid for their annual gas and electricity bill.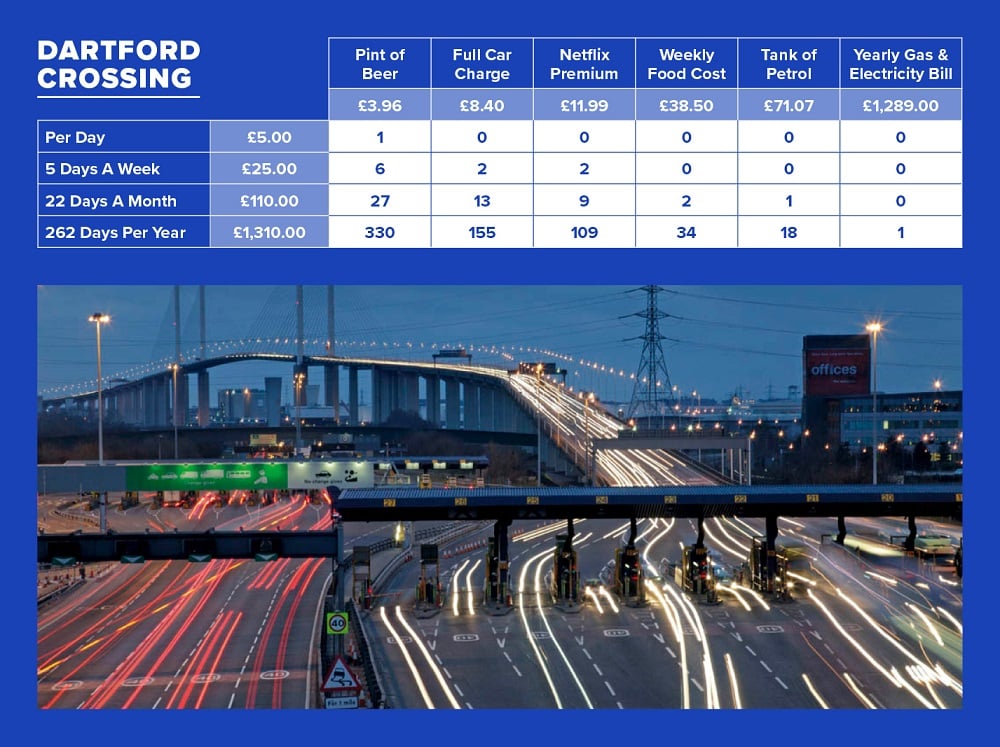 The Dartford Crossing, or to give it its proper name, the Dartford-Thurrock River Crossing, takes second place on the most expensive list and consists of the cable-stayed Queen Elizabeth II Bridge and two bored tunnels and is the only fixed road crossing of the Thames east of Greater London. The crossing is also pretty expensive at £2.50 and if you had to pay this for work every day, by the end of the month you'd have fuelled up well over a tank of petrol, and by the end of the year, been able to afford over half a year's worth of food, allowing you to have enough for 34 weeks of food for one person.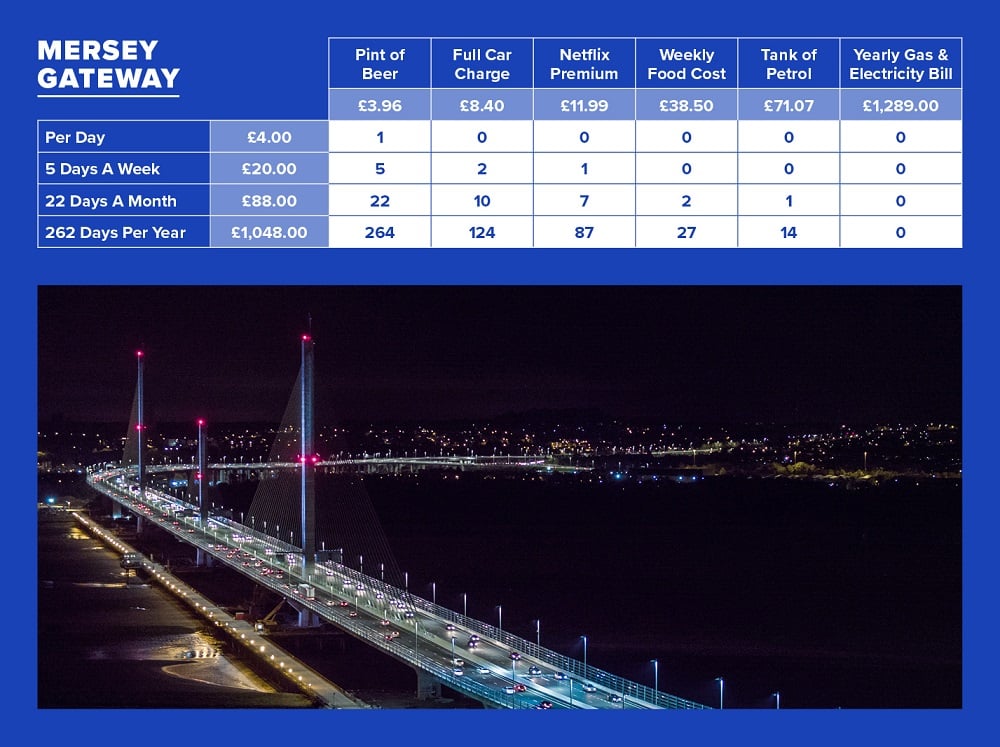 Bridging Widnes and Runcorn and running over the Manchester Ship Canal, the Mersey Gateway is another of the major toll bridges in England. The toll here is £2 which is still quite a hefty sum when you consider how much that totals over time. For example, just doing this trip for one month of work and you'd have been able to charge your electric vehicle over 10 times. In a Tesla Model S that's enough to get you from New York to San Francisco, stopping off in Houston, Texas on the way (3,554 miles).
The Tyne Tunnel allows those in the North East to journey under the River Tyne in two 2-lane tunnels. Many people in the area rely on the tunnel to visit various places throughout the region, but at a steep price. The toll stands at £1.80, which means that for those in the area, if they had to use it every day to get to work and back, it would be the same as being able to buy 238 pints of beer. I know which the Geordies would prefer!
This 1.38 mile single-spanning suspension bridge, that connects the East Riding of Yorkshire with North Lincolnshire, opened to traffic on 24 June 1981 and was the longest of its type in the world until 1998. Rounding off our top 5 at £1.50 per pass, having to go through this toll every day is relatively cheap when you compare it to some of the others, however, you'll still be spending the same amount of money as you would buying 20 weeks' worth of food.
To Toll Or Not To Toll? That Is The Question.
So, does all this mean that you should do whatever you can to avoid tolls? The answer is, surprisingly no. We've plotted various routes and assessed the amount of fuel you'd use trying to get around the tolls and, for the majority, you actually save money using the tolls, rather than avoiding them. For example, if you are passing through or live around the Dartford Crossing and/or Humber Bridge areas you could save hundreds, even thousands of pounds by actually using the toll roads, or to be specific around £636 for Dartford and a staggering £1,653 for the Humber. Not only that, but you'll also be doing your bit for the environment, as using toll roads drastically decreases the amount of CO2 produced when using longer alternative routes. In fact, using the same examples as above, we've found that using alternative routes to these tolls could cause you to produce around 55.7 and 55.4 kgCO2.
So to summarise, while initially it might seem like tolls are costing you a fortune, they're still cheaper than the alternative routes to avoid the spend. Many tolls also put money back into the local community, using the money raised to build new roads, pedestrian crossings, traffic lights and more. It's also a better time than ever to use tolls as due to the recent outbreak of COVID-19, traffic has decreased, according to The Guardian back in April, as much as 73% to levels not seen since the 50s, meaning there won't be as much of a queue to pass through them as usual.
"While some people have no other option to use these roads, it's staggering the amount these toll charges can add up to when used on a daily basis. Our research shows that on average over the year a commuter could pay £1,264.15 on these roads- that's 3.5% of the average UK salary, which is a big amount to fork out over the year. The convenience can be great for the occasional user, but we feel its a big cost to take for some people with little other choice" Mike Thompson, Leasing Options.
---
Source: Leasing Options