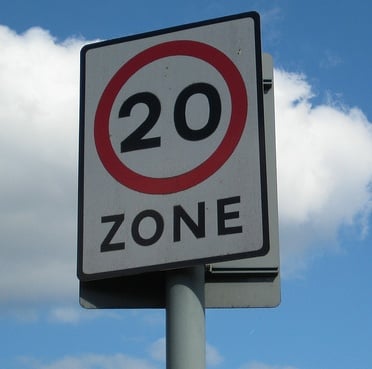 Beneficial?
20mph zones and limits are "effective means of improving public health via reduced accidents and injuries"
The news comes according to a study by researchers from Durham University entitled 'Go slow: an umbrella review of the effects of 20 mph zones and limits on health and health inequalities', authored by five academics from the department of geography and public health team at Durham University.
The report says that transport is an important determinant of health, and that there is a "well-established association between socio-economic status (SES) and risk of road accidents."
The team used systematic review methodology to identify the effects of 20 mph zones (including speed limits and road humps) and 20 mph limits on health and SES inequalities in health among adults and children. They identified evidence from five international systematic reviews on 20mph zones and limits concluding that overall, the results provide "convincing evidence that these measures are effective in reducing accidents and injuries, traffic speed and volume", and "evidence that such interventions are potentially cost-effective". The report also says that in two of the studies there were improved "perceptions of safety".
Commenting on the report, Rod King MBE, founder of 20's Plenty for Us, said: "The evidence in road safety, public health, active travel, noise reduction, emissions and simple liveability all point towards default 20mph limits becoming the norm for UK communities. This research adds even more weight to the view that current blanket 30mph limits compromise public health in our urban realm."
Do you see the benefit of 20mph roads or do you think they're overly precautionary? Let us know in the comments below