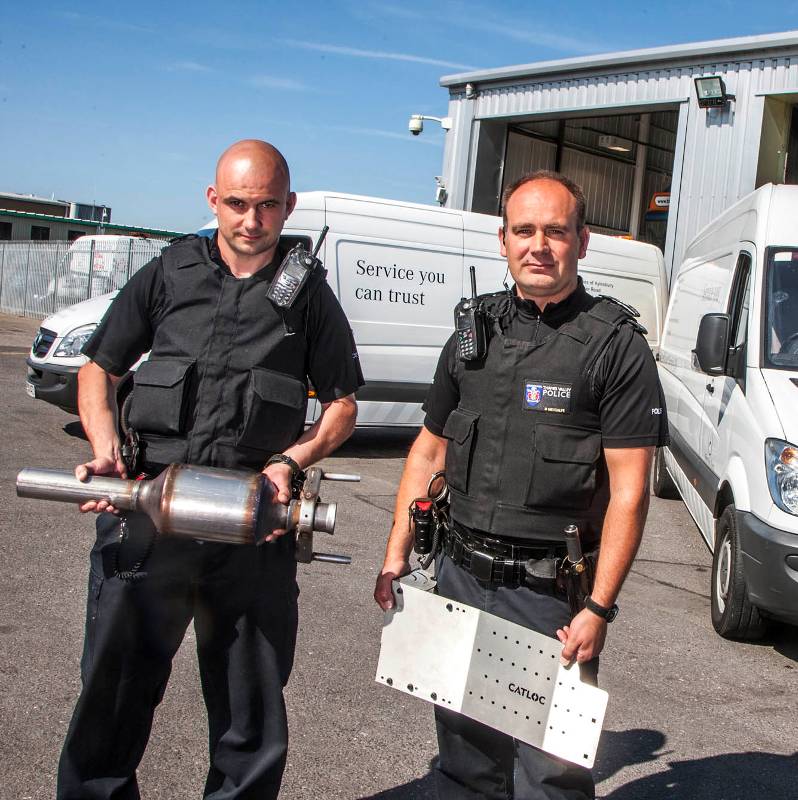 Catalytic Converter theft has become a major concern
FleetPoint approached the International Association of Auto Theft Investigators (IAATI) to talk about the state of crime prevention in the industry and how fleet managers can make sure their assets are protected.
Having covered a lot of news stories, industry chat and police operations regarding automobile theft and the new and unique ways in which car thieves are operating, we chatted with Dr Ken German, past president of IAATI and now their media director.
Dr German has previously worked for the Stolen Car Squad and as Head of Technology and Crime Prevention in the Met, obtaining a BA and a PhD in International vehicle crime.
—————————————————————————————————————————–
Your members come from a variety of different backgrounds – law enforcement officers, vehicle manufacturers, insurance companies, government officials, private investigators – how does this help the IAATI provide a partnership approach to vehicle crime.
The International Association of Auto Theft Investigators (IAATI) was originally formed in America to improve communication and coordination among professional auto theft investigators.
Other countries including the UK clearly recognised the difficulties of functioning independently of one another and that auto theft investigation was not just in the domain of the police but required an active participation from the private sector.
So successful was this 'partnership approach' that currently IAATI has branches in 35 countries throughout the world. Its 3500 members include representatives from the police and other law enforcement agencies, as well like minded industry people who prevent and investigate vehicle crime or who have a legitimate interest in vehicle crime investigation, prevention and education. This partnership was most certainly instrumental in helping to bring the theft total down from 378,000 fifteen years ago to the 90,000 that it is today.
What advice would you offer fleets to better protect their vehicles being targeted for theft?
It is obvious from our crime conferences that some fleet managers have their work cut out in protecting their vehicles & property. A quarter of all stolen cars trucks and vans are taken from the 'owners' own premises.
We have heard that thieves, often from organised criminal gangs, view a commercial yard as an opportunity to steal particularly catalytic converters, wheels, tools, fuel and other goods all at one time.
In essence security should primarily be focused on perimeter protection (fences), site access and its control (gates), surveillance (lighting and effective CCTV) and guards with visitor control and/or intruder detection. Also important was remote staff vehicle parking, limiting the number of key holders, a controlled access to loading bays and control systems and installing personnel and vehicle search procedures.
Any Vehicle keys kept on premises should be in a secure and lockable place preferably out of sight of strangers and not on a peg system that identifies the vehicle.
Routine is also bad as targeting gangs rely on this in planning their robberies "
Accurate vehicle records of numbers of major parts, trailers and special equipment fitted, such as HIABS, cat converters or tail lifts need to be kept to help identify vehicles & owners if property is stolen. It doesn't protect against theft but it does assist in returning property and bringing offenders to justice.
Our members advise that additional immobilisation and telematic equipment used in conjunction with security databases and checking companies can be beneficial. For example HPI who offer security alerts, Experian with their 3rd party trace and My Car Check (other companies are available) can place security markers on their individual databases that trigger alerts if vehicles deviate from their intended routes.
Catalytic converter security is available and necessary particularly for vehicles with a high ground clearance that leave fuel tanks and converters vulnerable and exposed to attack. Converters that are bolted on may need welding around the bolt areas to deter theft.
Also automated key control systems, Remote disabling systems, key-fob panic button and tamper-proof key cabinets were discussed as being solutions to those who have suffered theft.
The IAATI have the country's leading experts who are always ready to offer help if asked.
What are the current issues and concerns among your clients and members?
The headlines of late have shown that high value cars are being stolen to order using technology that can reprogram an ECU and create new keys. This of course is a major worry to the manufacturers, the police, insurance companies and many others as this equipment has now been made available to all including organised crime gangs.
This major problem clearly needs to be resolved quickly and fortunately through our contacts with government, industry and manufacturers we can offer a grass roots level insight into what really is happening and who really it is affecting.
Another issue is the increased use of fraudulent documentation and cloned credit cards being used to hire vehicles or obtain them on finance. These are then shipping out of the UK sometimes within the hour.
Experts are also concerned that thieves may even be using computer malware to take over vehicle systems via satellite – issuing remote commands for vehicles to unlock and start up. We now suspect that all modern makes are potentially vulnerable.
The IAATI attempt to direct all of these problems as they arrive to someone who can assist, whether it be government, police, expert, or manufacturer.
What tactics are being used by vehicle thieves that are a concern you feel fleet managers need to be aware of and what measures are most effective against theft?
The general consensus is that usually because of cost, security is often overlooked particularly if theft has not previously been experienced by the company. Driver training on security is not often provided and is often seen by some as an issue or lack of communication between company security and fleet managers.
Delivery vehicles are notorious for leaving vehicles unattended, doors unlocked, side panels open and exposing the contents and tempting theft.
Experts are also concerned that thieves may even be using computer malware "
Many fleet tracking systems, again through cost, generally do not have alarm functions and instead mainly record driving behaviour and fuel states which are used for planning purposes.
Driver awareness, staff security training including 'what if' scenarios and the purchase of quality security equipment tailored to each company's individual needs is still the most effective anti-theft device.
We have found that managers and company decision makers who make contact through IAATI with police and experts regarding their security concerns can be a satisfying and inexpensive solution.
In your view what are the most vulnerable areas of vehicles that can be exploited for theft?
Thieves are always looking for an easy steal and vehicles left open with keys left in them sounds incompetent but many do. Regarding this, 'frosting' (stealing vehicles that are left unattended while warming up) is very common.
Keys left lying around can also be copied for a 'later' steal by a thief which is another increasingly common practice. The key should not be able to identify the car or the car from the key.
Routine is also bad as targeting gangs rely on this in planning their robberies/burglaries and care should also be taken regarding loose talk about the nature of any loads or details of a journey.
A changed delivery address while en route should always be verified by the driver as thieves often use this method to have the goods redirected to their own premises.
Have you seen an increase in people wanting training or membership with IAATI in light of recent news regarding car security?
Most definitely. With vehicle crime still a low priority within the police constabularies, very little autocrime training is given to them and often none at all.
That said praise must be given to many of them who have successfully investigated complex theft/fraud enquiries involving vehicle crime this year. The initial recovery of potentially stolen items and subsequent investigation is often failed however by the lack of expertise in identification that is available, particularly when cloning is suspected.
The sheer logistics of moving large amounts of personnel to one location for training sessions has become prohibitive due to cost and being away from the workplace.
We have discovered that a general video on various aspects of vehicle crime that can be viewed at the work place plus contacts who can answer queries on particular topics is probably the way forward simply because vehicle crime is changing all the time.
Limited autocrime training is now given to police in the Metropolitan area and marking companies do offer their own crime courses on request.
Dr German, thank you for your time
The International Association of Auto Theft Investigators (IAATI) is the organisation for professionals involved in the prevention and detection of vehicle crime.
The membership is made up of law enforcement officers, vehicle manufacturers, insurance companies, government officials, private investigators and others who prevent and investigate vehicle crime.
For more information please visit http://www.iaati.org.uk/