Dearman's zero emissions technology is leading a new cost competitive era for liquid nitrogen refrigerated transportation.
Dearman's expertise in liquid nitrogen technology has resulted in a more efficient, cost competitive (compared to incumbent diesel refrigeration) high performing and zero emissions transport refrigeration system.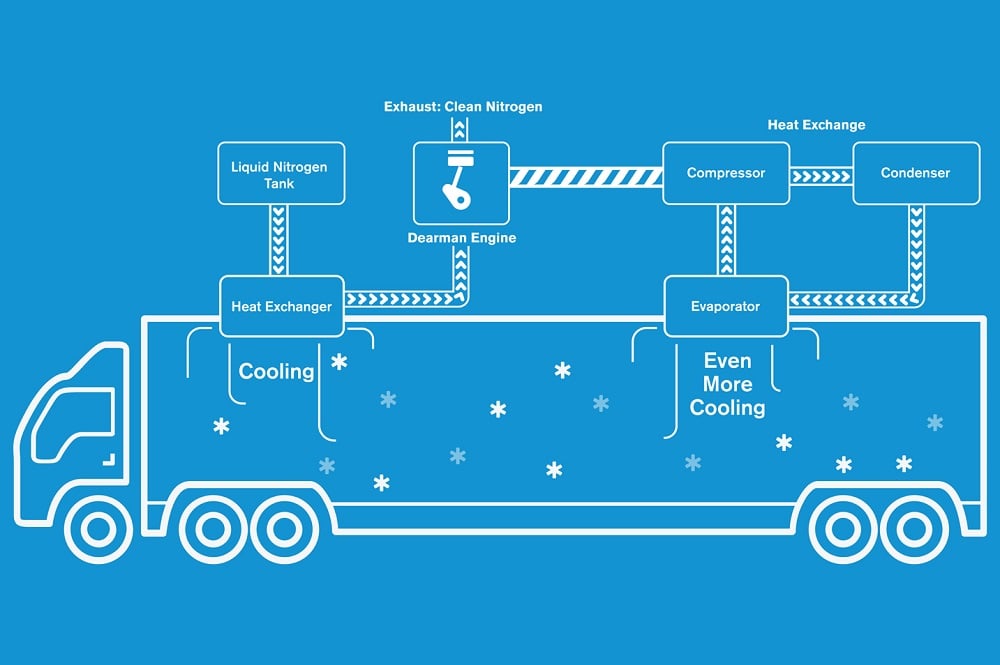 Paul Polman, then-CEO Unilever, said: "Great partner with Unilever & Dearman working to our goal of making our transport system as green as possible – win for the environment and for business"
Diesel refrigeration- using standalone diesel generators- are highly polluting, noisy and not regulated as strongly as the Euro 6 engine in the tractor unit pulling the refrigerated trailer.
The engine from a single diesel-powered refrigerated trailer can emit six times as much NOx and 29 times as much PM as the main truck engine – the diesel transport refrigerated trailer can account for as much as 80% of the pollution.
Liquid nitrogen refrigerated transportation offers benefits over diesel powered refrigeration:
Faster pull-down
Precision temperature control
Quieter, making it ideal for overnight deliveries
Zero emissions (the only by-product is nitrogen)
Reduced carbon footprint
Liquid nitrogen refrigeration is nothing new, but the technology that simply circulates the liquid nitrogen inside the refrigerated container and then releases the gas into the atmosphere fails to maximise its benefits.
The Dearman liquid nitrogen refrigerated transportation system reuses the liquid nitrogen gas- mixed with a water/glycol heat exchange fluid- to maximise and enhance its efficiency.
The reason the Dearman liquid nitrogen refrigerated transportation system is so much more efficient, than competing cryogenic transport refrigeration units, is because of the revolutionary Dearman Engine.
The Dearman Engine uses liquid nitrogen and water/glycol (non-toxic poly-ethylene glycol, also used for de-icing roads) to drive the piston of the engine, by capturing the expansion of the liquid nitrogen gas.
The main cooling power is from the liquid nitrogen, the Dearman Engine- using a mixture of heat exchange fluid and liquid nitrogen- provides a secondary cooling circuit, maximising the gases efficiency and the cooling efficiency.
The more efficient use of liquid nitrogen for refrigerated transportation unlocks liquid nitrogen as a competitive energy source. It also enables the refrigerated transportation unit to be wholly independent of the main tractor unit's propulsion engine.