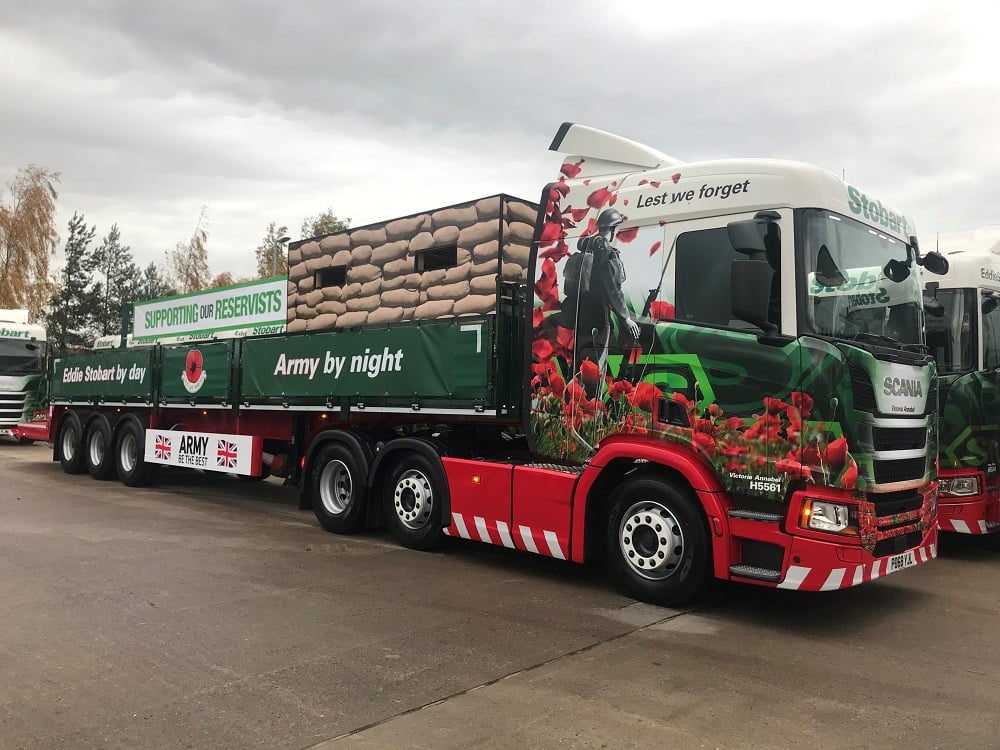 Leading supply chain, transport and logistics company, Eddie Stobart, has unveiled a custom-coated truck to commemorate the centenary of the Armistice. The vehicle, bearing the words "Lest we forget" and decorated with imagery of a lone solider amongst poppies in Flanders Fields, was revealed at the London Lord Mayor's show on Saturday 10 November, an event Eddie Stobart has taken part in for the past four years.
To mark the 100th anniversary of the Armistice, and to showcase its support for the Armed Forces, the custom-coated truck and float featured staff serving as Army reservists with representatives from its base in the North West. The Eddie Stobart team also invited four reservists from 4th Battalion, The Duke of Lancaster's Regiment (4Lancs) to take part in the procession.
Speaking about the event, Major (Retd) Geoff D Nuzum, Regional Employer Engagement Director of The North West Reserve Forces' and Cadets' Association for the North West of England and the Isle of Man said, "On behalf of The Reserve Forces, I'm delighted to see Eddie Stobart's continued and enthusiastic support for those wishing to support the Armed Forces and the wider Defence Community both at home and overseas. This year marks a very significant anniversary for the Armed Forces and it is always great to see businesses like Eddie Stobart playing a role to ensure that the sacrifice made by Armed Forces personnel is recognised."
Supporting and actively encouraging employees to sign up to the Reserves is core to Eddie Stobart's internal proposition, in fact, the company was awarded a Ministry of Defence Employer Recognition Scheme Silver Award earlier this year. To support staff who wish to join the Reserves, policies and measures are set up to ensure employees can commit to it. For example, reservists are granted two-weeks additional paid leave on top of the standard holiday allowance for attendance at an annual training camp.
Alex Laffey, CEO at Eddie Stobart said, "We are very proud to support the Armed Forces and attend the Lord Mayor's Show procession with reservists from Eddie Stobart and from 4th Battalion, The Duke of Lancaster's Regiment. We want to play our part in ensuring younger generations remember the sacrifice made in the First World War and pay tribute to them with our very own Eddie Stobart reservists and custom-coated truck as we mark 100 years since the Armistice."