One of Britain's biggest EV leasing companies is taking part of the Electric Vehicle Rally of Scotland, highlighting just how easy it is for drivers in the city to make the switch to cleaner, greener and more affordable mains-power motoring.
A team from Vanarama are covering over 1200 miles as part of the event, behind the wheel of two of the most popular new fully-electric vehicles, the Polestar 2 and Vauxhall Mokka E.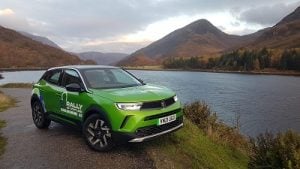 Their mission was to showcase just how far electric vehicles have come and to highlight to local drivers how easy it is to make the change.
The event coincides with the end of Glasgow's COP 26 Climate Change Summit, where 24 countries and the world's leading car manufacturers committed to end the production of fossil-fuel powered vehicles by 2040 "or earlier", in a major new commitment this week.
Participants in the EVROS event set off from in Glasgow on 8 November, heading to Edinburgh and then south to Gretna Green before travelling up to John O' Groats via Fort William.
The rally, which stops off at 30 checkpoints, heads south through Inverness, Aberdeen and Dundee before finishing up back in Glasgow on 12 November.
Andy Alderson CEO of Vanarama said: "Many of the checkpoints along the route are EV charge points, which enables us to demonstrate the public infrastructure and network that already exists in Scotland.
"We are seeing massive demand for electric vehicles, and its vitally important that the number of public charge points continues to grow rapidly.
"Every car manufacturer has accelerated plans for electric vehicles and we are determined to make it as easy and affordable as possible for drivers to make the switch."
Vanarama has seen orders for electric vehicles (EVs) increase by more than 1,000% in 2021, and announced last month that demand had doubled since fuel shortages began in late September.
The online leasing marketplace now processes an average of 55 pure-electric vehicle orders every day and expects to deliver more than 20,000 EVs to customers in the next calendar year.