This year, the Department for Transport are reviewing the laws regarding using your phone behind the wheel. Currently, if you are caught using your mobile behind the wheel you could receive a penalty of six points and a £200 fine. You could even lose your licence if you passed your driving test in the last 2 years.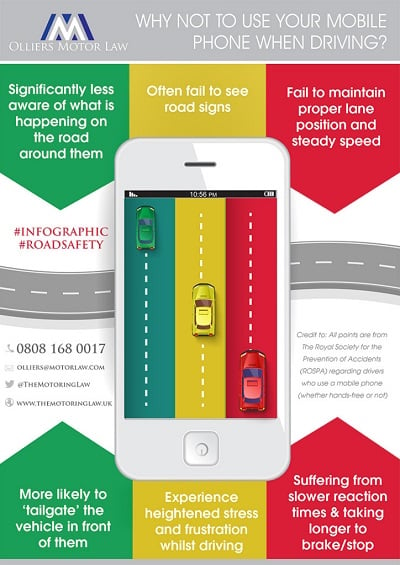 Leasing Options has dissected what the new 2021 mobile phone driving laws will mean for motorists and have also uncovered ways you could be breaking the law with your mobile phone behind the wheel without knowing it.
Potential New UK Driving Rules Explained
In 2003 when the offence was first introduced, the main reason why people used a mobile phone was to communicate either with another person or with the internet (classed as "interactive communication").
Currently, the Department for Transport are looking to broaden the offence to include using your phone for purposes other than communication. The proposed changes include a driver using their handheld phone to:
Illuminate the screen
Unlock the device
Check the time
Check notifications
Accept or reject a call
Compose text messages or emails
Take photos or videos
Use the phone's front facing camera as a mirror
Search for music or photos stored on the phone
Dictate voice messages into the phone
Read a book or play a game downloaded to the phone
The wording will also be revised to encompass phones and "other hand-held interactive communication devices" such as tablets, gaming devices and electronic notepads.
It's important to note that the law does will not affect using your phone in hands-free mode or when the device is mounted in a holder/cradle.
An exact date for these changes to come into effect has not been announced, however, with the consultation now closed, they can be expected to be brought into law later this year.
The new laws will also include an exemption so that hand-held mobile phones can be used to make contactless payments using a mobile phone at drive-thrus and other similar locations.
Four Ways You Might Be Breaking the Law Without Knowing It
Using Your Phone While the Engine is Running
If you are stopped in traffic, pulled up on the side of the road, or even paying for your food at a drive-thru it is technically illegal to use your hand-held phone or similar device while your engine is still running,
Mike Thompson from Leasing Options has said: "All drivers should be wary of the UK's phone driving laws. Not only is it dangerous to operate a hand-held device while driving, but it can also land you in some serious trouble. Even before the potential new changes are implemented this year, you could still commit an offence by using your phone at a drive-thru, petrol station or car park if your engine is still running. Don't forget to turn off your engine just to be safe!"
Programming Your Satnav while driving
You must set the route before turning on your car and turning on your engine. Setting your destination while driving is deemed as a committing an offence.
Your Phone Must be in a Cradle
You will be committing an offence if at any point you choose to hold your phone/device in your hand whilst driving. To use your phone as a sat nav, it must be suitably positioned in a cradle and 'hands-free'.
Mobile Phone Positioning
The law does not state where exactly your phone should be positioned in the car as long as it doesn't obscure your view. However, using your phone for any reason whilst it is in the centre console would not be classed as hand-free and can also land you in trouble.